To coincide with Pride Inside – an online festival of events and activities celebrating the LGBTQ+ community – we decided to ask some of our LGBTQ+ members to reflect on how the TV industry is doing on LGBTQ+ inclusion, let us know what's happening within their own indies, and to offer their top queer picks for some lockdown viewing…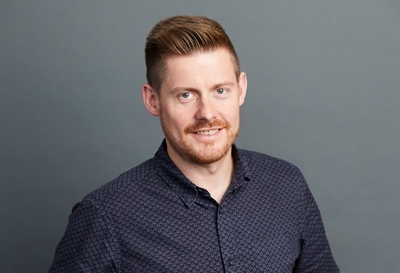 Alex Jones
MD, Red Planet Pictures
Alex is Joint Managing Director of Red Planet Pictures alongside Belinda Campbell and has been part of the team since the company's first production back in 2007. He is instrumental in overseeing all of Red Planet Pictures' output and manages the negotiations for major co-production deals with multiple partners across the world. Alex started his career at Thames Television almost 20 years ago where he cut his teeth on long running drama and soap. He is a member of Pact Council and the ScreenSkills HETV Council.
A character's sexuality doesn't always need to be the story - it is just another facet of their identity.
Q. What has your experience been as an LGBTQ+ person working in the industry?
I feel lucky that I've personally never encountered any issues in the industry. For me there has always been quite a visible representation of lesbian and gay people behind the scenes, which I feel makes it easier for others to feel comfortable being themselves. I'd say there is probably still a lack of representation across the wider spectrum of gender and sexuality and hopefully that's something that will improve in the future.


Q. Where do you think the UK film and TV industry is in terms of its representation of LGBTQ+ characters and lives on screen?
I feel we've come quite a long way in the last 20 years in terms of on screen representation. But I do often feel that gay characters lean towards the obvious stereotypes and this is what needs to change. A character's sexuality doesn't always need to be the story - it is just another facet of their identity.


Q. What LGBTQ+ film or TV programme would you recommend for some lockdown viewing and why? (NB. It doesn't have to be recent)
I love the film Pride, essential viewing and a good reminder of how far we've come. And Queer Eye is great for some binge watching!


Q. What does Pride mean to you and how will you be marking it this year?
I think Pride is an opportunity to celebrate inclusivity and to feel genuinely proud of who we are. I am part of an LGBTQ+ rowing club called the London Otters, we normally march each year in the parade and it's a highlight of our social calendar. As well as an awesome party I think celebrating Pride is a time to reflect on the sacrifices people have made to get us to where we are now and to remind ourselves that for many there is still work to be done.
This year I had an appropriately sized social distanced BBQ at home… we had bunting and rainbow cupcakes! Bring on Pride 2021!
Pact would like to thank Alex for taking part in our 2020 Pride interview series.