< Go back to events listing
UK Indies Trade Mission: Israel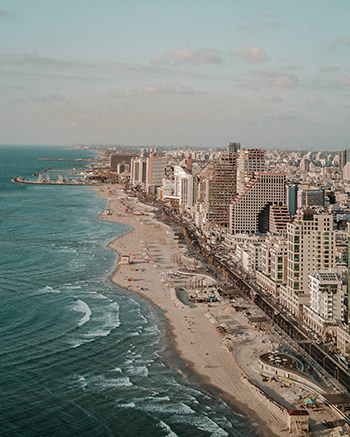 Known as the biblical Holy Land to Jews, Christians and Muslims, Israel may be famous for its history but today is lauded for cutting edge industry (it is second only to the United States for start-ups). The film and TV sector is well established and existing treaties and tax incentives make it an attractive prospect for international co-productions. The Middle East was identified as a potential growth market for UK indies in the latest TV Exports Report, and Israel's five major broadcasters stand-out as potential acquisitions targets for UK content.
There have been a number of high profile co-productions between the UK and Israel with announcements of more to come in recent years including the UK Global Screen Fund-backed My Happy Ending, and international crime drama series, Protection.
**Registration window now closed**
We have joined with leading industry partners in Israel, and the British Embassy in Tel Aviv to arrange a mission from Tuesday 22nd to Friday 25th March 2022, which will offer participating UK indies the chance to find out more about the opportunities open to them and to make new connections.
The week will consist of:
Opportunities to meet with broadcasters and producers
One to one co-production meetings
A networking drinks reception at the British Ambassador Residence
A special pitching event which will award a £12k development prize to the best co-production idea. (More information below)*
Travel and Accommodation
Please note: you will be responsible for your own flights and accommodation, however all scheduled activity above, as well as internal transfers to meetings will be included. Currently, non-Israeli citizens who arrive from countries on the orange or yellow lists will be allowed to enter Israel, but have to do a 24-hour isolation or isolate until they test negative on a PCR test taken upon arrival in Israel (whichever is earlier). Full details about current entry requirements can be found here.

**Registration window now closed**

*Co-Production Development Fund Pitch Opportunity
The competition requires UK producers to pair up with an Israeli producer and come up with an idea for a new UK/Israeli TV show. Ideas can be across any genre but if it's defence related you will need to check with Ronee Isaacson Ronee.Isaacson@fcdo.gov.uk first.
The pitches will take place in Tel Aviv on Thursday 24th March and will be judged by a panel of experts. The winning idea will bag £12,000 for its producers to put towards a showcase reel.
Those wishing to enter will only be able to pitch one idea, which should be pre-selected in advance of the mission.
To find out more about entering and how to team up with an Israeli production company, please contact Hannah Grencis: hannah@pact.co.uk