< Go back to events listing
Pact Lunch Commissioner Webinar: Richard Watsham, UKTV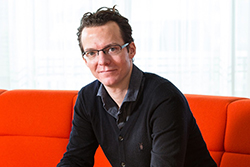 UKTV is a multi-award winning media company which broadcasts a portfolio of ten pay and free channels, reaching 42 million viewers per month. Formed through a joint venture between BBC Worldwide and Scripps Networks Interactive, it is one of the UK's largest television companies.

About Richard
As Director of Commissioning at UKTV, Richard Watsham oversees all entertainment originations across the network, with a focus on Dave, Watch and Gold. He commissioned the BAFTA-nominated live special Monty Python Live (Mostly): One Down Five to Go and multi-award winning Dynamo: Magician Impossible, as well as Crackanory, The Happenings and Dara O Briain's School of Hard Sums. He is also the driving force behind innovative comedy projects such as Dave Gorman's Modern Life is Goodish and Ross Noble Freewheeling as well as successful, brand-funded adventure sports series, Red Bull Cliff Diving and Red Bull Soapbox.
Before joining UKTV, Richard spent more than ten years as a director and series producer alternating between observational documentary and factual entertainment formats. He helped to shape a number of new series including Fat Families, Dating in the Dark and Coleen's Real Women before joining VMTV as Commissioning Editor of Bravo in January 2010. Commissions for Bravo include three series of Brit Cops as well as Sun, Sea and A&E and two of the network's most successful shows, Alex Reid: the Live Fight and Live European Darts with Dave Gorman.

Register now
Pact members can register to participate in the session, taking place from 1:00pm - 2:00pm on Monday 14th September, by clicking here.