< Go back to events listing
Pact LIVE: Diamond Training
Who is this training aimed at? Anyone in production who wants to understand the system.
(Company MD, Head of HR, HOP, Line producer, Production manager, Production coordinator, Production secretary)
Diamond is an end-to-end process for collecting and reporting diversity data across all the main broadcasters.
This training is useful for individuals who are responsible for post production paperwork and want to find out how to complete Diamond forms in Silvermouse, or have a refresher on how the system works. This is usually production coordinators, although production secretaries may also find this a useful skill to learn. The training would also be useful for more senior roles who want to understand how the system works.
Diamond is managed by the Creative Diversity Network (CDN) who have commissioned TriForce Creative Network/Dandi to deliver practical training to production co-ordinators and others, who are responsible for completing Diamond paperwork.

Course content:
What is Diamond and why it is important?
Producers role in collecting Actual and Perceived Data
How to engage contributors (cast and crew)

Speaker: Minnie Ayres
After registering, you will receive a confirmation e-mail containing information about joining the meeting.
If you have any queries, please contact our Head of Inclusion and Diversity, Anjani Patel: anjani@pact.co.uk.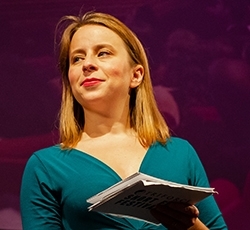 More about Minnie
Minnie Ayres is a co-director of TriForce Creative Network and Dandi Network. She also works extensively with TV and film organisations including Pact, the CDN and production companies to help them with consultancy and training to create diverse teams and inclusive workplaces.