< Go back to events listing
Belfast: Pact Export Accelerator Global Business Workshop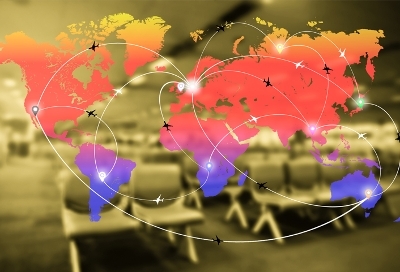 The workshop will be delivered by leading industry professionals and cover areas such as:

• Building your international profile
• Managing International relationships
• Developing transferable content
• Pitch techniques
• Facing up to new challenges in the market
• Selling IP overseas
• Understanding global programme needs and trends
• Utilising the Export Accelerator online resource – with access to funding information from over 100 countries
• Working with distributors and agents (home and abroad)
The workshop is free to attend but you must register in advance.

Click here to register.
Graham Smith, Grand Scheme Media
Graham worked in television on shows like The Last Resort before launching an indie to pitch and win business from the likes of Channel 4 and ITV. He has produced and executive produced many entertainment and comedy shows over the years as a commissioner for Channel 4, then as an Executive in Comedy Entertainment at the BBC and then joining Channel 5 to head up comedy commissioning.
www.grandscheme.tv

Guest Speaker: Tracey Scoffield, Owner, Rainmark Films
Tracey Scoffield joined the television industry as a trainee to William G. Stewart before moving into drama development and working for Colin Callender at the Callender Co. She then joined publishing house Faber and Faber, where she ran the films and plays list, setting up the screenplay publishing initiative and working with directors like Martin Scorsese. Tracey then joined the BBC as a Script Editor, becoming Head of Development and Executive Producer for BBC Films. In the latter capacity, she has executive-produced Richard Loncraine's award-winning The Gathering Storm (broadcast in the U.S. on HBO), Stephen Frears' Dirty Pretty Things, Roger Michell's The Mother, and Michael Winterbottom's A Cock And Bull Story.
In 2005 she left the BBC to set up Rainmark Films, a television and film production company based in London, with producer Frank Doelger. Tracey has made a number of films for HBO, and recently developed and produced The Frankenstein Chronicles for ITV, and various International channels. She used to be head of development at BBC Films.

Guest Speaker: Natalka Znak, Znak & Co.
Natalka is a multi-award winning TV producer who has created some of TV's biggest hits. These include Hell's Kitchen, I'm a Celebrity Get Me Out of Here, currently in its 14th season in the UK, and International hit format Love Island. She started her career in the UK in politics before becoming Controller of Factual Entertainment for ITV Studios in London.
She went on to become Chief Creative Officer and CEO Of Zodiak US. She ran the company's LA and New York offices and has worked with all the major Networks abc, CBS, NBC as well as cable channels including History, Lifetime, A&E, Own, TLC, and Spike producing shows including Hardcore Pawn, the critically acclaimed Killer Karaoke and the award winning Wifeswap and Secret Millionaire.

Guest Speaker: Nick Smith, EVP Formats, All3media International
Nick is a highly experienced international format expert, managing the All3media format consultancy service, approving format bibles, liaising with format creators and overseeing the rollout of shows across the international market.
NB. Guest speakers may vary

Speaker: Dawn McCarthy-Simpson M.B.E., Director of International Strategy, Pact
Dawn has had a varied media career which spans across 25 years, working in radio, broadcast, production and for the past 11 years working at Pact supporting companies and helping to drive growth both domestic and international.
Dawn's innovative flair saw her create and launch the UK's first virtual market in the creative industries, brought 15 countries together to create the Global Creative Alliance, developed an online tool providing access to funding and finance opportunities in more than 100 countries. She also manages the 'access commissioner' webinar series providing a valuable resource for companies around the whole of the UK. Dawn was appointed a Member of the Order of the British Empire (MBE) in the 2017 Queen's Birthday Honours List for services to Exports.