Last week, 31 indies headed out to Dana Point, California as part of a Pact-led UK delegation supported by the Department for International Trade (DIT).
For many, it was the first opportunity to return to doing international business in-person since the start of the pandemic two and a half years ago. Making the transition from Zoom calls to IRL interactions was made all the more amenable by the poolside positioning of the UK Indies venue, which played host to lots of 1-2-1s and networking over the course of the Summit.
The delegation was led by Pact's Managing Director of Business Development & Global Strategy, Dawn McCarthy-Simpson MBE: "Although Zoom has been a life-saver for business during the pandemic, it was so great to be back in-person for this year's Realscreen Summit. The UK Indies venue was a hive of activity all week and it was brilliant to see business being done face-to-face again."

What UK indies had to say
Kate Beal Blyth, Chief Executive Officer, Woodcut Media
"Realscreen 22 was incredible from both a business and personal perspective. It was brilliant to be meeting friends and colleagues once again in person. IRL does really matter! The overall mood was buoyant with a real sense of 'back to business' and genuine opportunities for us Brits with the US buyers. The Pact team were enormously supportive and made the UK Indie presence known. We renewed old contacts, formed new relationships and pitched, pitched, pitched – all in the Californian sunshine!"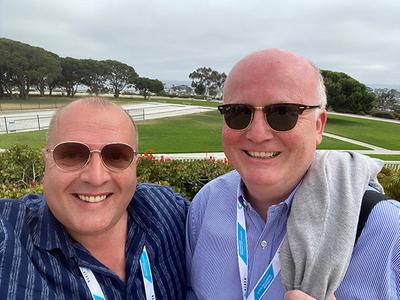 Paul Stead, CEO, Daisybeck Studio
"It was great to be back and to reconnect with so many telly types. Aside from a nice selection of buyers being there – it was just brilliant to catch up with other indies and distributors and for me – it made me realise how much I'd missed the chance to moan to like minded moaners about the state of the business. Not much moaning to be honest – it was a really upbeat summit – helped by the warmth of the welcome from Pact of course – and as ever, great organisation in respect of our delegation.
"In terms of business, we got through a lot. Great meetings with the buyers and our Specialist Factual Development Executive, Dean Palmer had a full diary throughout, with loads of follow up meetings planned for this week and next. I was particularly glad to see Paul Heaney back in business with his new venture BossaNova Media. I was curious as to where he got the name from – then realised it was his party piece at the final cocktail party of the summit."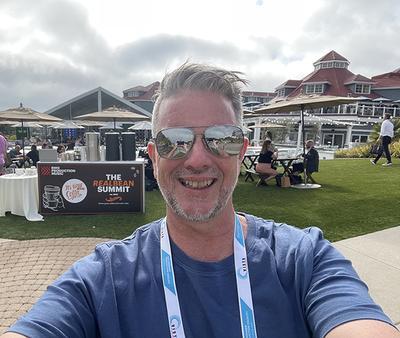 Seumas Mactaggart - Head of Development, MacTV
"This was my first time at Realscreen. I had heard so many good things about the market having been to the likes of Mipcom and Sheffield, and having established MacTV as a company in the co-production world, working with Irish, Welsh, Icelandic and Canadian partners, over the last 5 years or so, accessing the American and Canadian markets more fully was the next step for us. It was all about seeking further growth and another new chapter, taking stories from our UK, Scottish and Gaelic communities out into the wider world.
The event itself was one of the best I've been to, and it was great to see people again in person. Everyone was so approachable and the sessions were so good and made it so easy to network and meet new people. I'm coming away with so many fantastic new connections in the American and Canadian sectors and beyond, and going home so incredibly enthused and inspired with fresh ideas and thoughts for the future, which is what it's all about!
A massive thanks to MG ALBA and Creative Scotland for their funding support in making it all possible, and also to Pact for their great support on the ground, and to the other UK indies who were so welcoming and helpful to me as a Realscreen newbie! For any indies out there thinking about making the commitment and going in 2023, just go for it. You will not regret it!"

A full list of companies who were part of the official UK Indies delegation at Realscreen 2022:
All3Media International
Argonon
Arrow Media
Afanti
Bigger Bang
BossaNova
Caledonia TV
Channel 4
DARE Pictures
Daisybeck Studios
Drive
Flame Distribution
Getty Images
Greenbird Media Ltd
Icon Films
mactv
Marmalade Sky TV
Maramedia
Nutopia
Off The Fence
OH Communications
Pernel Media
Pioneer Productions
Rare TV
Rogan Productions
Scorpion TV
TVF International
Two Rivers Media
WAG Entertainment
Woodcut Media
Zig Zag Productions
Pact would like to thank all the companies who attended as part of the delegation and the Department for International Trade for their support.

For more information about Pact's international activities and how members can get involved, click here.
For information and resources on international territories and how UK indies can make the most of global opportunities, visit the Pact Growth Accelerator.