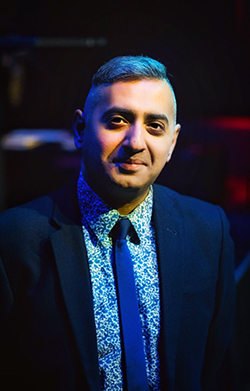 The COVID-19 pandemic has impacted all of our lives, but how are Pact members adapting? We've asked them to share their lockdown lessons and reflections on where the industry might go from here.
Sohail Shah is the Managing Director of King of Sunshine Productions, a Manchester based indie focused primarily on entertainment, fact ent and formats. Prior to setting up KOSP, Sohail was Commissioning Editor for BBC Entertainment across all four BBC channels. His shows included QI, The Graham Norton Show, and The Eurovision Song Contest.
Sohail is a Non-Exec Director for Elstree Film and TV Studios; and is also an Advisory Board member for the Edinburgh Film and Television Festival, as well as a committee member for the Ones To Watch and The Network talent schemes.

Not having someone to bounce thoughts off in the immediate vicinity takes getting used to.

How have you adapted to working from home and what does a typical day look like?
It's been surprisingly easy getting used to working from home actually. The business started in earnest in January and I was looking at a few office spaces; then lockdown happened, so I've pretty much continued doing what I was doing before we weren't allowed out.
A typical day is e-mails, phone calls, zooms, writing; e-mails, phone calls, zooms, writing; throw in a few viewings at certain times too. It works though and I wouldn't change it. Having a good chair, table, a view out of a window, and ample beverages are key! Too many biscuits and chocolates are not!

Video calls and virtual meetings: love them or hate them?
Love them! It's the nearest you're going to get to human interaction at the moment, and there's a lot to be said for that. The whole pandemic is so bizarre, we need a bit of normality; so at least by chatting to others, albeit via webcam, you get a bit of banter and can see people's reactions in real time, which you don't get over the phone.

What one thing about working in the industry are you missing most in lockdown? And what are you not missing at all?
I'm missing the team camaraderie and having chats about random stuff. Whenever we talk, we do have a bit of that before getting into the subject at hand, but because you have an agenda and are far more focused on group calls, it's not always the right place to bring up a random dream you've had and ask what it might mean!
I'm not missing the commute to meetings at all. If I didn't ever have to get on a train, tube or bus again, I'd be fine with that. It takes such a chunk of time out of your day that you could spend doing other things. I'll miss not being able to walk to my desk from my bedroom when offices open up again.

I think the biggest challenge has been trying to continue being creative in what has been a pretty downbeat time.

How are you running your team and keeping up morale whilst you're all working remotely?
We have weekly catch ups, both group and individual ones. I don't like giving people a set time to 'have fun' per se like Friday drinkies, as we all talk a lot anyway, both on phone and e-mail. I did however insist on celebratory zoom drinks for the wrap of our first production, Britain's Favourite Detective. We weren't all together physically, but we absolutely had to mark the occasion.

As a business leader, what has been your biggest challenge during the crisis?
I think the biggest challenge has been trying to continue being creative in what has been a pretty downbeat time. Not having someone to bounce thoughts off in the immediate vicinity takes getting used to. Sometimes being on your own isn't great for your head either, as you can tend to start overthinking even the slightest thing.

Have there been any surprise benefits to the lockdown?
I think a massive benefit has been the accessibility to commissioners and channels. I've had far more conversations with commissioners via Zoom during lockdown than I did before. As studios, run throughs, and internal meetings have all been halted, the decision makers have had more time on their hands, so it's been great to be able to tap into that availability and get some steers and have great conversations with people I'd like to work with.

Have you made any changes to the way you/your indie does business during the crisis that you plan to continue beyond it?
We haven't necessarily changed how we work bar the obvious staying at home, but I would hope that the way channels communicate with out of London indies continues in the way it has during lockdown. There have been a lot of briefings that people have been able to watch, and a lot of initiatives aimed at bolstering the production community across the country. Just by being invited to be part of things, it's given a boost to people's creativity in the sector

I think the ingenuity of tech overall has inspired me in lockdown."

What's the best piece of career advice you've ever been given?
In 2000, I was super excited to be working on a big comedy documentary for the BBC. It was such a great gig and I loved every minute of it. One day, Gerard Barry, my producer at the time, said to me "Be enthusiastic. Talk about things as much as you like, but don't let people think that's all you can do". I've never forgotten that and it's held me in good stead.

What films and TV series have been helping you get through the lockdown?
The Mandalorian and its Gallery BTS series along with it have been amazing on DisneyPlus. I love Sugar Rush on Netflix too, plus anything to do with Corrie or EastEnders. Any Bond or Star Wars movie cheers me up no end.

What or who in the industry has inspired you most since the pandemic began and why?
I think Stewart Clarke and Campbell Glennie deserve a huge inspirational pat on the back. As Creative Director and Managing Director of the Edinburgh TV Festival, they managed to deliver an entire festival virtually. Not just a few sessions, but an entire programme with big hitting names, and possibly the most important MacTaggart lecture ever with David Olusoga.
I think the ingenuity of tech overall has inspired me in lockdown. Within a very short period of time, we went from shaky Zoom footage to socially distanced filming with smart cameras and protocols in place. It's a real testament to the industry that we stepped up despite very little support from the powers that be.

What lasting change do you hope we might see in the industry after this crisis is over?
I think the realisation that things can be done in different ways; whether that's regarding location, a new company, new tech, or a different way of filming. Channels need to continue to move telly along and not just rely on the same companies doing the same things.
Pact would like to thank Sohail for taking the time to answer our questions.
If you would like to feature in our member interview series, please e-mail membercomms@pact.co.uk.