The COVID-19 pandemic has impacted all of our lives, but how are Pact members adapting? We've asked them to share their lockdown lessons and reflections on where the industry might go from here.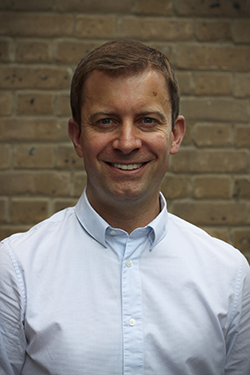 Miles Jarvis is Executive Producer and Managing Director of Phoenix Television. He set up Phoenix in 2017 and jointly owns and runs it with his creative colleague of 20 years, Jaimi West who is Phoenix's Creative Director. As a female, BAME-led regional indie, Phoenix creates non-scripted series and formats that resonate globally. In its first three years the company has delivered three ten-part series for UK and US broadcasters and has won an RTS Southern Award for Best Documentary.

No matter what happens during the winter months we must work very hard to keep a sense of togetherness.

How did you adapt to working from home during the lockdown, and what does a typical day look like for you now?
B.C. (Before Covid), Phoenix had always worked flexibly with team members – enabling them to balance their work from home and our Hampshire office – depending on their family or personal circumstances, so working from home wasn't a huge change in practical terms.
The real shift/danger is that we are no longer 'working from home', for so many of us we are 'living at work'. This is something I'm very mindful of in terms of team mental health, especially as we gear up for the second season of a big production with winter coming.
For me personally, my new-shaped working day starts being able to have breakfast with my family. My children are now back at school so once we've dropped them off, I've got a full day of work at home – meetings, calls, development, writing and spending time focusing on the business. I'm usually able to have a very quick lunch with my wife to break things up before collecting our children from post-school childcare. More often than not of course, work carries on into the evening.

Video calls and virtual meetings: love them or hate them?
On balance they're great and I think they're a positive addition to our working lives – but let's not forget that a phone call can work just as well, and sometimes better.
Plus – who could eliminate the potential for those cameo moments – children wearing cardboard boxes declaring that they're a robot or describing their favourite princess dress during broadcaster pitches… yep, they've both happened.

What one thing about working in the industry have you missed most through this period? And what have you not missed at all?
The one thing I've missed is being together with people and all the benefits that brings – in development and also in production. Phoenix was commissioned to produce a 10x11' series for CBBC during lockdown, Out Of This World – which is now on air. Naturally, it brought challenges but it's been hugely rewarding – there were moments throughout production where being together would have helped.
Lockdown is an oppressive word and in so many ways this period has felt like that. No matter what happens during the winter months we must work very hard to keep a sense of togetherness.
What have I not missed at all? Quite simply – getting on a packed train to get into London.


The beauty of being a small independent producer is that you can shift focus very quickly and we did just that.

Have there been any surprise benefits to the changes that the crisis has brought?
On a personal note – spending more time with my family (although not exactly a surprise, definitely a benefit!)
On a professional note – we won our first commission from a new broadcaster in a new genre, as mentioned above. We'd been discussing archive ideas with Getty for about a year – one of which was a specialist factual series using their space archive. When lockdown hit, CBBC put a shout out asking for ideas that could be remotely produced. We shifted our existing space archive idea into a series for CBBC and asked Dr. Maggie Aderin-Pocock if she'd like to be involved – we've been impressed by what she's achieved in promoting STEM subjects to a broader audience and thought she was perfect. Fortunately, she agreed to be part of the project, along with her daughter Lori. Incredibly, the idea went from pitch submission to contract in just four weeks. Out Of This World is now on air on CBBC and iPlayer (please excuse the gratuitous plug!)

How have you had to adapt your business strategy in light of the on-going impact of COVID-19?
The beauty of being a small independent producer is that you can shift focus very quickly and we did just that as soon as Covid hit. Projects that required global travel were put on ice; archive-driven series (like Out Of This World) that can be produced remotely or socially-distanced were put front and centre.
Jaimi (who I own and run Phoenix with) and I have also been taking part in the Indielab2020 growth accelerator and this has helped us focus on the business at such a critical time – where we're at, where we're going and adjusting our minds to stabilise and get set for growth.
We're now starting to see movement in some of our B.C. development projects which is rebalancing the type of projects with traction.

What or who in the industry has inspired you most since the crisis began and why?
In honesty, the team that delivered our lockdown CBBC series, Out Of This World. It's been challenging but they've kept on giving throughout. The team has delivered over and above and the biggest of thanks to them – a true inspiration.

Pact would like to thank Miles for taking the time to answer our questions.
If you would like to feature in our member interview series, please e-mail membercomms@pact.co.uk.