The COVID-19 pandemic has impacted all of our lives, but how are Pact members adapting? We've asked them to share their lockdown lessons and reflections on where the industry might go from here.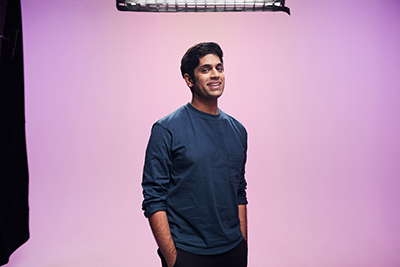 Faraz Osman is the Managing Director and Head of Creative at Gold Wala, the company he founded in 2018 to work on innovate formats that break the mould for broadcasters, brands and content platforms.
Faraz has over 15 years' experience in TV, online and media production, working across International Emmy, BAFTA, BIMA and Broadcast award winning content for broadcasters and brands. He devised the creative and Exec Produced BBC Radio 1 Teen Awards, Disney Channel Access All Areas: Unlocked!, Channel 4's Two Players, Shell's Reverse Engineers, Vevo's Tastemakers, Red Bull's Culture Clash, the Apple Music Festival and Beats 1 Radio (video). He also Exec Produced two series of the award winning music and culture show, Four To The Floor.
Previously Faraz was Editor of Education at Channel 4, commissioning the Emmy award winning Battlefront, E4's highest rated documentary, Don't Blame Facebook and working with UK Parliament to deliver SB:TV's ground breaking DB8. He sits on the board of the BAFTA Children's Committee, lectures at Goldsmiths College, University of London, is part of the Ravensbourne College Media Advisory Committee, a judge for BAFTA and Broadcast Magazine, and a speaker for Sheffield Docfest, The Children's Media Conference, Edinburgh TV Festival and the European Broadcast Union. He is also a regular media commentator for The Guardian, Broadcast Magazine and The Media Podcast.
We believe that being open to different ways of working helps us attract and maintain the best talent and can also inspire original thinking.
How have you adapted to working from home and what does a typical day look like?
We've been pleasantly surprised about how we've not just managed to keep going, but actually grown significantly during the pandemic, regularly winning work and hiring throughout lockdown.
When we started Gold Wala, we recognised that diversity can only be delivered when you remove as many barriers as possible - so we have always encouraged people to work in the spaces they are most comfortable. That allowed us to adapt to the 'stay home' advice quickly as we were already using tools including video conferencing, instant messaging and collaborative documents. We have also been able to expand our team network, actively hiring people from across the country and benefiting from the perspectives they bring without worrying about the inconvenience of long distance commuting.
Having all those elements baked into the setup of the company allowed us to move quickly and embedded trust in broadcasters and clients that we were ready from day one. As ever with TV, there's no typical day and you always have to be ready to adapt and innovate!

Do you have any caring responsibilities, and if so how are you balancing that with your work commitments?
All the senior team at Gold Wala have young children and we have always championed flexible working - we believe that being open to different ways of working helps us attract and maintain the best talent and can also inspire original thinking.
When the first full lockdown happened, we were all strained in balancing our roles as execs and parents. However, it also helped us uncover new opportunities at BBC Education and CBeebies, as we applied our personal experience to our development slate. Our confidence in content that was useful and entertaining for parents and kids alike led to a number of commissions that we are super excited about bringing to screen.

Video calls and virtual meetings: love them or hate them?
Depends if we're having a bad hair day!
We've been able to connect with more people from all sides of the industry, so at times it has felt like a gift - and we really do hope that the openness, particularly from commissioners and channels, continues.
However, we are really feeling the loss of informal, in person communication. Throwing ideas around, talking through a quick random thought or even just having a chat over a brew can sometimes be the best development tools.
We are also aware that video chats can be tricky for some people. We are always conscious that when someone turns on a webcam they are inviting us into their home and we look to be as respectful and accommodating as possible.
We are very much looking forward to being back in a buzzy environment where we can get to know people a little better and embrace the randomness a day in the production office can bring!

What one thing about working in the industry are you missing most in lockdown? And what are you not missing at all?
We're massively missing meeting new people and shaping ideas with them.
We are definitely not missing those hours in the day lost on trains, tubes and buses, running from one meeting to the next.
You can tell a lot about a person by simply smiling, saying hello and seeing how they react.


How are you running your team and keeping up morale whilst you're all working remotely?
We've largely avoided 'organised zoom fun' but do try to arrange random acts of home delivery kindness - including Deliveroo lunches and thank you presents. We are also offering staff membership to premium physical and mental health apps, to help support them as the nights draw in.
And never underestimate the power of a gif in a whatsapp chat!

As a business leader, what has been your biggest challenge during the crisis?
Uncertainty is always the biggest challenge - now more than ever. All we can do is offer a steady hand to our clients and commissioners and hope that the trust we invoke in these tougher times will be rewarded when things are back to that 'new normal'.

Have there been any surprise benefits to the lockdown?
Many! Spending more time with family. Spending less money on lunch. Developing relationships with commissioners and crews over the phone. And winning work from briefs that never existed before.

Have you made any changes to the way you and your indie does business during the crisis that you plan to continue beyond it?
We've really recognised that our flexibility and ability to communicate using digital tools is a massive asset. We are looking to see how we can support more people working from home if they'd like to and also how we can work more efficiently and safely on location.

How have you had to adapt your business strategy in light of the on-going impact of COVID-19?
Cashflow is everything. We are focused on briefs that we know we can deliver on quickly. Development for longer projects is still ongoing, but with so many unknowns we can't afford to speculate too much.
Representation matters - and those that really get it know that it's so much more than what people look like. It's how they think, act and adapt to the world around them.


What's the best piece of career advice you've ever been given?
Mohit Bakaya, now Controller of Radio 4, reminded me that everyone - regardless of their role - is a human. You can tell a lot about a person by simply smiling, saying hello and seeing how they react.


What films and TV series have been helping you get through the lockdown?
Like others, I've been catching up on all the bits I missed! Succession, Inside Number 9 and The Mandalorian all featured. Right now my attention is on my third playthrough of Zelda, Breath Of The Wild - the greatest video game ever made.

What or who in the industry has inspired you most since the pandemic began and why?
Joe Wicks has earnt his knighthood. His boundless, authentic and honest enthusiasm has got me regularly exercising for the first time in my life – proving that in adversity, miracles do happen!

What lasting change do you hope we might see in the industry after this crisis is over?
There is a real opportunity to reset the conversation around diversity. Representation matters - and those that really get it know that it's so much more than what people look like. It's how they think, act and adapt to the world around them.
If we are truly to consider ourselves as a key creative industry - one that is more valuable than ever before in combatting loneliness and isolation - then we have a duty to constantly upend the status quo and empower voices from all corners. Done right, we can uncover smart, fun and compelling stories that continue to satisfy the curiosity of the most demanding audiences.
Pact would like to thank Faraz for taking part in our interview series.