Next week, a new series of interviews hosted by Pact Member Gareth Strachan will be launched on the Pact Growth Accelerator. Rebel With a Rulebook will feature a range of screen industry rebels who have gone against the grain to carve out successful careers. Here Gareth explains the inspiration behind the series and what kinds of insights you can expect…

It started as a fleeting idea...
When you don't know the answer, always start with the question, or in this case several: Why on earth did I create the series Rebel With a Rulebook? What were my motivations? What did I hope to achieve? Why's it even called Rebel With a Rulebook? Ain't that a contradiction? (Ain't "ain't" bad English?)
Like many of my projects, Rebel With a Rulebook started out as a fleeting idea in my head: why don't I interview a bunch of people I want to talk to about how they made their way / are making their way in this topsy-turvy-feast-or-famine-painful-to-navigate-highly-competitive-must-be-nuts-to-enter-but-despite-all-that-seductively-exciting TV and film industry? If that last sentence - and a few others above – say anything about my own rebellious nature, they perhaps demonstrate I am not afraid to sail fiercely against grammatical convention.
The truth is I find other people fascinating (mostly) so I made it a point to invite mostly fascinating people to come and talk to me – not mostly, thoroughly. I approached Pact with the idea because it seemed to make sense to do it in collaboration with an organisation that represents such individuals and have a ready-made audience of 'rebels' – or aspiring ones – of which I consider myself one. But it's a more nuanced positioning than pure rebellion: in the production world, we are actually more like 'obedient rebels', bound, as we are, by rules and regulations; laws and legalities, guidelines and guiding principles, bureaucracy and best practice – all of which require a sharp wit, a dab hand and a fancy bit of footwork to flick through, figure out and tread carefully around. An important distinction, therefore: we're not out and out Anarchists, just Rebels… With a Rulebook.
So, what's the series all about?
Simple: it's about sitting down with Individuals (with a capital 'I') and listening to their stories – both personal and professional; the journeys they took, however tumultuous and unfruitful; and the level to which they veered into rebellion or stayed safely in rule-keeping and role-playing. Push too hard and you're out - don't push enough and you get nowhere; stay steadfast in your unconventional approach and risk your reputation - or stay within safe ground and create mundane, mediocre, middle-of-the-road blah; be dynamic - or stay platonic? Isn't that the dance we're all trying to twerk to?
It's also just about having a friendly natter, or course… and some useful tips to up and coming producers.
What can you expect?
From Trigger Happy TV Comedy Legend Dom Joly to Veteran Bladerunner & Alien Producer, Ivor Powell – crossing genres and genders, countries and counties, themes and theatrics – we're bringing you a fresh take on that oft-quoted Frank Sinatra line: I Did It My Way. They did it theirs and you'll find out just how. It's Zoom with a Boom; Talk with a Squawk; and Banter with a seemingly single Mantra: Keep on Keeping on…

The first episode of Rebel With a Rulebook, featuring Dom Joly, will be available to Pact Members from next week. Details about how to view the interview will be shared on the website and in the newsletter.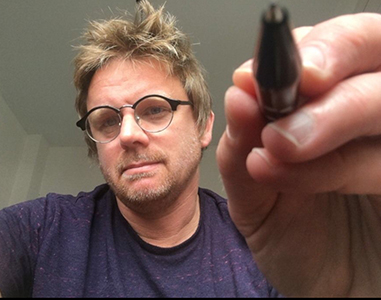 About Gareth Strachan
Gareth Strachan is a scriptwriter and the founder of Brighton-based indie, Blisstopia Productions, producing anarchic comedy, brassy dystopia, topical artwork and grass-roots documentaries. Works in development include comedy sketch show MyalogueTV and Typing Heads Futuristic Art Range. Their dystopian animation, The Boy Who Cried miBot, recently won a UK-Israel development fund and is now underway. For more information, please contact gareth@blisstopiaproductions.co.uk or visit: www.blisstopiaproductions.co.uk