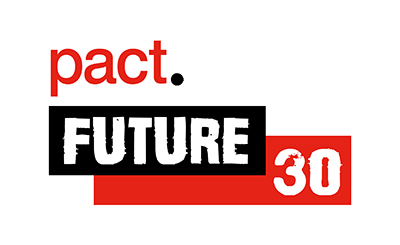 As part of Pact's 30th Anniversary activities celebrating disruption, innovation and creativity, we are looking for 30 of the UK's most exciting emerging production and distribution indies to take part in our Future30 development scheme.
The selected indies will benefit from free Pact membership for two years and a tailored programme of support to help their businesses to grow.
We're looking for indies from around the UK to take part, and a diverse judging panel made up of some of the industry's most experienced producers will choose the successful applicants.
Both existing Pact Members and non-Members can apply, provided they meet all of the eligibility criteria.
Please read the information below carefully, especially the eligibility criteria, before applying.
The application form is hosted on submit.com. If you need the application form supplied in an alternative format, or have any other queries related to the scheme, please contact rebecca@pact.co.uk.
**IF YOU MISSED OUR 30-MINUTE INFORMATION WEBINAR ABOUT FUTURE30 YOU CAN WATCH IT ON-DEMAND HERE.**



Access to our full suite of Member benefits, including business affairs advice, our library of template contracts and agreements, the Pact Growth Accelerator and Inclusion Tool.

Access to the expertise and guidance of some of Pact's most experienced Members.

Discounts to attend industry events and markets in some instances where Pact is organising a UK delegation.

Access to a programme of events which will be based around four key pillars: Winning a Commission, Operating an Indie, Growing an Indie and Going Global.

Opportunities to connect with your fellow Future30 participants and build a peer support network.

We are looking for newly-formed, ambitious production and distribution indies from all across the UK. We want to hear from indies with strong potential for growth, led by future gamechangers of the indie sector, who will benefit from our support.
We particularly welcome applications from indies owned by people from underrepresented backgrounds and those who have returned to the industry following a career break due to caring responsibilities or for other reasons.

Both existing Pact Members and non-Members can apply, provided they meet all of the following eligibility criteria:
You must:
be a UK registered company that was either incorporated in the last three years or can demonstrate you have only been actively trading for the last three years.

not yet have exceeded £1,000,000 turnover per annum.

be an independent production or distribution company that:
– has at least one broadcast credit, or with a founding company director that has an individual broadcast credit in an above the line role within the last three years,
Or
– has a theatrical film release credit or has produced a short film that has been nominated for an award at a BAFTA-qualifying festival or received public funding,
Or
– can demonstrate generated income from commercialised content in the last twelve months,
Or
– represents a minimum of five UK companies within your distribution catalogue and have sold content to more than two territories.
be an indie in which there is no controlling shareholding or significant influence exerted by either a Public Service Broadcaster or a company that has an annual turnover over £1,000,000.

Before you apply, you will need:
to allow at least half an hour to complete the form

to have available:

the date of incorporation of your company

a copy of the most recent set of full statutory accounts of the company (if applicable)

supporting documentation to demonstrate your current estimated company turnover, if full statutory accounts have not yet been prepared
We advise that you review the questions and take some time to formulate your responses offline before submitting your answers via the online form.
If you are certain that you meet all of the eligibility criteria, please complete the application form:


If you need the application form supplied in an alternative format, or have any other queries related to the scheme, please contact rebecca@pact.co.uk.

Applications open: Monday 5th July 2021

Information Webinar: Monday 26th July, 11:00am – 11:30am – WATCH THE RECORDING
Applications close: Tuesday 31st August
Selection announced: September 2021

Scheme begins: Friday 1st October 2021

Confidentiality
Please rest assured that your application will remain confidential.
Pact Executives will shortlist the applications for a judging panel, who will assess each shortlisted applicant based on the video pitch that is requested as part of your submission. The judging panel will be made up of Pact Council members and senior representatives from selected Pact Member companies.
Financial information provided as part of your application will not be shared with the judges and will be treated in the strictest confidence by Pact.
Your video pitch will be recorded using the Submit.com software and will not be downloaded, distributed or used by Pact in any way apart from being viewed by the Pact Executive and the judging panel for assessment purposes.