The 2019 Pact UK Television Census reveals that independent TV production sector revenues reached over £3 billion (£3.004 million) in 2018, their highest level to date and up over 40% since 2008.
This is an increase of 10% since 2017, and revenues have grown by over £500 million since 2012 – a rate of 3.1% per year.

International revenues rocket
Over the past year, international revenue grew by 20% to £962 million, an increase of over 90% since 2013. This growth was primarily driven by a 28% increase in primary international commission revenues totalling £704 million in 2018.
Domestic TV revenues also rose by 3% to just under £1.9 billion, but remain broadly flat since 2008. This is due to PSB commissioning spend falling annually while commissioning spend from multichannels continues to grow (up by £62 million to £321 million), more than doubling since 2008 (£321 million compared with £158 million).

Pact Chair, Sara Geater commented: "These figures show that despite the challenges that indies face domestically, there is still a huge international market looking for quality British content. Indies large and small should make use of Pact's fantastic resources, such as the Export Accelerator, to ensure they are taking advantage of all of the international opportunities available to them."
The annual Census helps us to build a robust and representative view of our sector, so that we can further identify key long- and short-term trends to inform our thinking for the year ahead. We would like to thank all the Pact members who sent a response this year, enabling us to carry out this important work.

Read the Census in full:
Pact UK Television Census 2019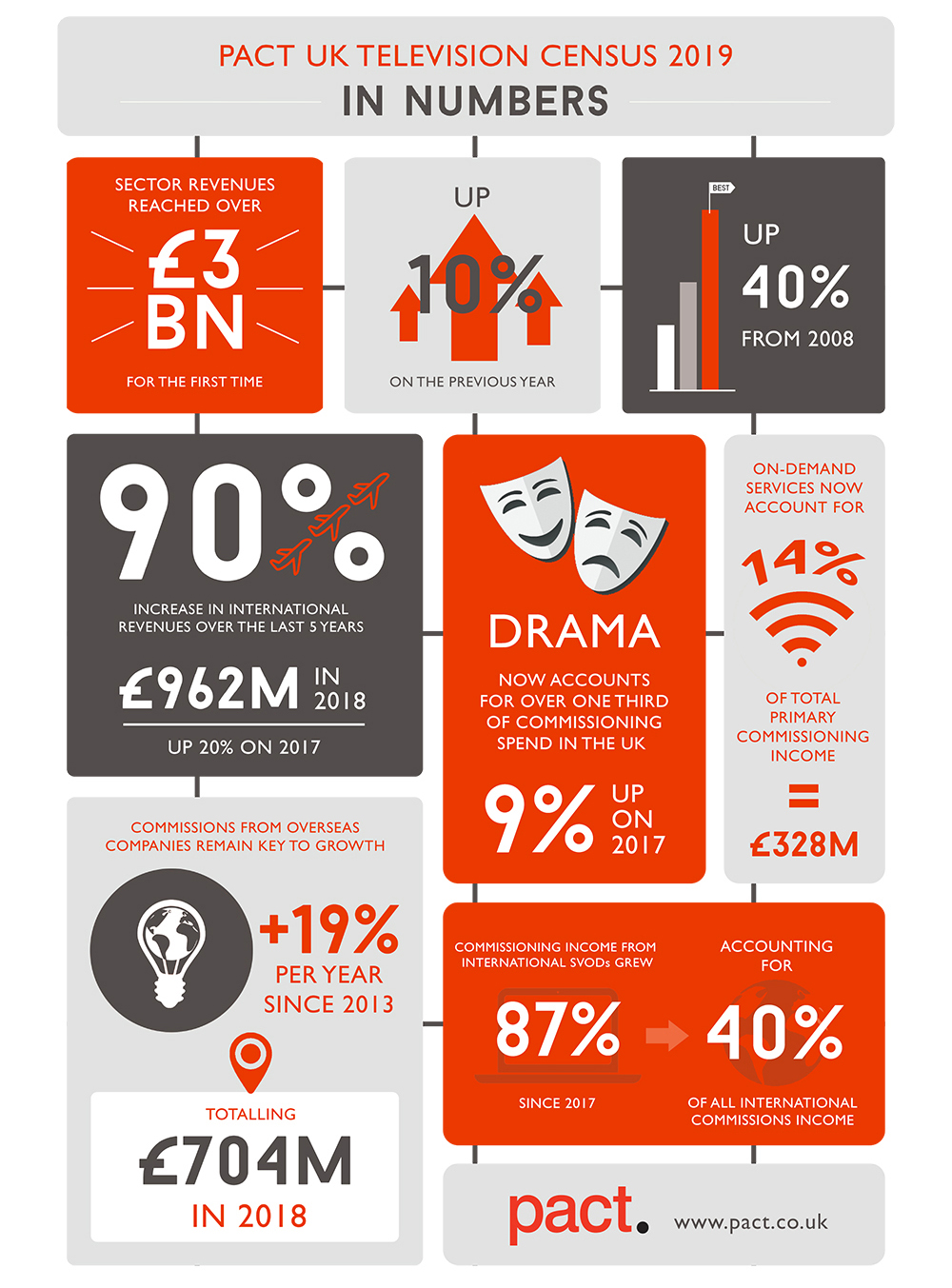 More highlights
SVOD commissioning income soars
Commissioning income from international SVODs (including Netflix and Amazon Prime) increased by 87% from 2017 to £280 million, accounting for 40% of all international commissioning income. Including UK VOD services (BBC iPlayer, All4, ITVHub, My5), this rose to £328 million.
Share of commissioning spend by genre
Drama spend increased significantly since 2017, accounting for over one third (35%) of all external UK commissions, the highest since 2009. Entertainment retained the second highest share of commissioning spend at 25%.
Share of commissioning spend by company size
The BBC continues to commission a greater share from the smallest companies compared to other PSBs (8% of its spend was with companies with less than £1 million turnover), with ITV (55%), Channel 5 (53%) and Channel 4 (50%) commissioning from the largest producers (companies with more than £70 million turnover).