It's been a very busy time in the Nations and Regions over the past few weeks and as we head towards Christmas there is no sign of this slowing down!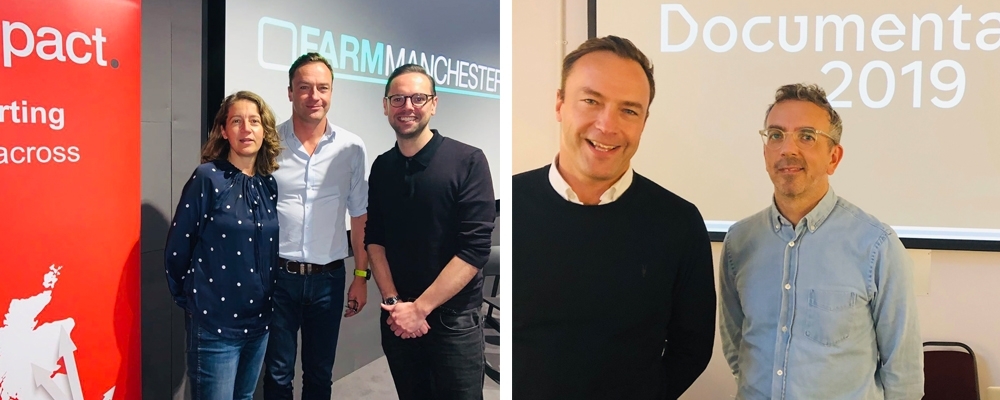 Looking back over the month, we've run two very successful commissioner briefings. The first was with the BBC's David Brindley and Clare Mottershead which we held at The Farm in Manchester. There was a great turnout for this event with members coming from all over the UK. The second was with Channel 4's Danny Horan at The Watershed in Bristol. As with all our commissioner briefings we hold 1-2-1's afterwards, giving the chance for our members to meet with the commissioners and pitch ideas. These 1-2-1 sessions are invaluable and have already led to paid development, so it's well worth registering for these events as soon as we advertise them because they fill up quickly.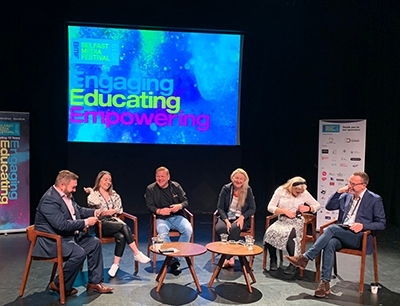 The Belfast Media Festival was also on my agenda this month, so a big thank you to Pact Council's Northern Ireland Rep, Kieran Doherty of Stellify Media for all his help. I was invited to speak on a panel focusing on the business side of creative content (pictured), with issues like GDPR, insurance, music and legal being covered. A minefield, if ever there was one, so it's essential to get the right advice and guidance.
It was good to also have the opportunity to get back to Cardiff to discuss the creative landscape with indies and local Government, focusing on areas such as talent and training. I'll be attending the launch of Creative Wales in London later this month, a new agency within Welsh Government designed to support and showcase the creative industries and the contribution they make to the economy and culture of Wales. A big thank you to Gwenda Carnie of Flame Group, our Pact Council Rep in Wales, for all her help and for tirelessly driving me around each time I visit!
Also on the talent front, I should mention that we hosted the Northern Talent Forum in Leeds, run by Alison Lewis at Blakeway North. This is an excellent way of looking at the latest schemes and funding available, as well as a chance to flag any issues. I'd be keen to explore running these forums around the Nations and Regions, so drop me a line if you would be interested.

A Visit from the Secretary of State for International Trade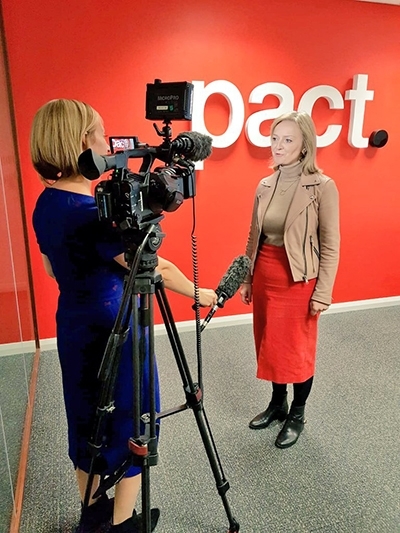 The Secretary of State for International Trade, Liz Truss, visited our Leeds office in October when we hosted a round table discussing the importance of future international trade opportunities for the TV sector, with guests from ITV, Sky, BBC and Channel 4 amongst others. As our latest Exports Report which was also published that day showed, UK TV exports are up 7% to a record £1.4bn, so now is the time to go global.
It was also a pleasure to welcome delegates from British Embassies around the world to our office in Leeds at the beginning of November. Thank you to Caroline Hollick, Head of Drama at Channel 4, Renee Hunt, Head of Digital Platforms at Sky's Leeds based technology Hub, Caroline Cooper-Charles, Head of Strategic Programmes at Screen Yorkshire and the other speakers for giving excellent presentations – all highlighting the fantastic opportunities on offer in the region. On the subject of Channel 4, the opening party for their Leeds National HQ was as loud as it was lively! A fantastic evening topped off by a passionate speech from Alex Mahon, flagging up the importance of Nations and Regions.

Coming up...
Looking ahead, the Televisual Factual Festival is coming up on Wednesday 27th and Thursday 28th November at the Curzon in Soho. I'll be on a panel discussing opportunities in the Nations and Regions with representatives from Channel 4, ScreenSkills and BBC Scotland.The festival also features over 50 speakers, 15 sessions and a Meet the Commissioners networking lunch, so it's well worth Pact members attending and I hope to see you there.
The New Year will bring new Pact Commissioner Briefings from a selection of the FAANG's as well as Sky, ITV, Five and Channel 4. It's important that these briefings take place all over the UK, so we'll be holding events in Cardiff, Glasgow and Belfast as well as other creative hubs. Again, all the info about how to register will appear on the website and in the newsletter so watch this space.
We continue to welcome new scripted and non-scripted OOL members located all over the UK and I would hope to see this grow steadily as more indies look at the benefits of being based in the Nations and Regions, of which there are many!
Please feel free to drop me a line if you have any questions, or if you would like to arrange a meeting, contact hannah@pact.co.uk.