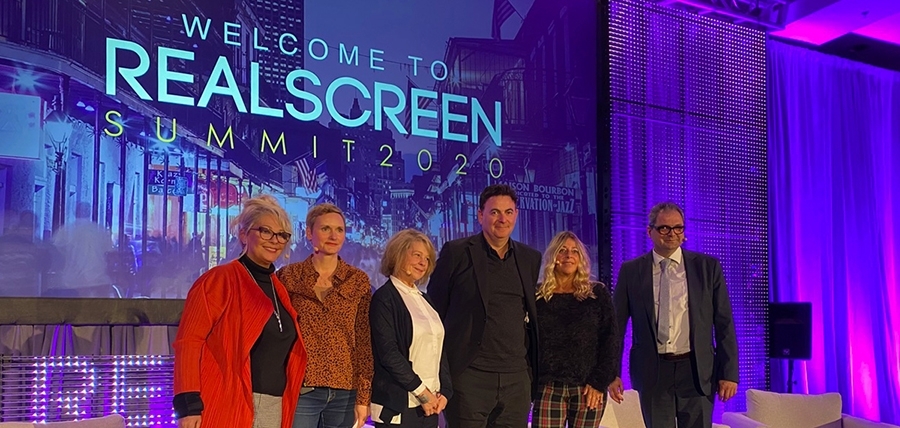 In January we led a delegation of UK indie producers and distributors to this year's Realscreen Summit in New Orleans for four days of meetings, networking and information sharing.
Whilst we were camped out in the UK indies area, we took the opportunity to pick the brains of Pact members and get their reflections on the changes they're noticing in the factual realm, as well as their predictions for the sector going forward.
Almost everyone we spoke to singled out a shift towards "fewer, but bigger" factual programmes and series as a significant development, largely attributed to the increasing need to stand out and compete in the ever-more competitive SVOD space. Sarah Sapper, MD of Cornelia Street Productions and a self-proclaimed Realscreen "newbie" mentioned that this could mean an increased need for greater name recognition, such as landing a well-known director who might not previously be associated with documentary. She added "Some of those landmark series are going to be great and as a viewer that's going to be wonderful. If I manage to get one of them away as a producer then fantastic."
Seona Robertson, MD of Glasgow-based Caledonia TV was noticing a shift in the types of content that broadcasters and streamers seem to be looking for toward "less aggressive, teary, angry, shouting programmes and a bit more optimistic, positive human emotion… less cruel programmes." Whilst Ben Bowie, Co-Founder of Bigger Bang commented that "from this market… there seems to be a shift slightly away from the reality side of things, there seems to be much more demand for the sort of content Bigger Bang makes which is rich, deep and nuanced storytelling… less constructed reality."
Paul Stead, MD of Leeds-based Daisybeck Studios also predicted that in the UK there would be an increasing trend toward domestic stories, "with Brexit and everything I think people want safe harbours and I think they want factual television to reflect their lives, their world, the British world, and less so from an outside perspective."


Whilst there might be a move towards fewer but bigger docs, all the producers we spoke to mentioned the challenge of shrinking budgets more generally. First Look TV's Creative Director, Will Hanrahan summed it up neatly when he said "Everyone is saying the same thing, 'can you give us more for less.'" Paul Stead was concerned about the potential impact on talent, "Some people will still have big budgets and they will be able to pay premium rates to talent… I'm just hoping that the talent will remain loyal to the companies that grew them and don't outprice themselves… that's a very serious concern"
Matthew Frank, CEO of TRX (The Rights Exchange) also recognised shrinking budgets as an issue, but pointed out that new technologies could help programme-makers to save money in the ways they make their programmes, both in production and post. And a couple of producers we spoke to also mentioned that because the US networks need to save money too it means some are actively looking towards UK programme-makers to make US content, as it remains a cheaper option for them.
Another common thread was the radical change in the funding model for factual content, with fewer broadcasters now fully funding programmes, meaning producers having to do a lot more work building partnerships to get their programmes made. Matthew Frank feels that producers are "becoming like mini financing houses who are having to piece deals together in a way they've not had to do in the last couple of decades." With the knock on effect being it "swallows up more and more of their time. Which almost takes them away from what they're best at, which is making shows."
However, Lynn Lugsden, Head of Formats at Hove-based Orange Smarty found this had some upsides for distributors, "this has been my best year (at Realscreen) for meetings." The need for broadcasters to work together and with other organisations to get programmes fully funded meant she had been more able "to get in front of the broadcasters as a distributor," not necessarily to try to sell them something but just to listen and get a better sense of what they are looking for.
Despite the obvious challenges, the people we spoke to had a fair amount of optimism about the health of the factual sector. Ben Bowie commenting "There seems to be a lot of people out there with money buying things." And Lynn Lugsden adding "There seems to be a thirst for factual… as companies get bigger, so do the gaps in between. So it could be a good time for the smaller distributor."
One of the best things about an event like Realscreen is the opportunity to meet face-to-face with key contacts and make new connections. "The really useful thing at Realscreen is the chance encounter with someone you know… and then you can often find yourself closing a deal you didn't think you could do, or having an idea you've never had before" said Ben Bowie. Whilst Matthew Frank felt this year's edition was the "best one I've been to" in terms of the number and quality of meetings he had. Everyone we spoke to also confirmed that they had done deals or laid the groundwork for them during their time in New Orleans.
Attending her first Realscreen, Seona Robertson reflected that whilst she had always felt the US market was too difficult to crack, she is "a lot more confident about it" now. And returning to the Summit after a four year hiatus, Paul Stead had been reminded that "making telly is still fun. People are still smiling… we're not over yet!"

Pact would like to thank all the producers and distributors who attended Realscreen as part of this year's UK delegation.
To find out more about international opportunities through Pact, click here.
To find out more about exporting and to create your own export strategy for your business, visit the Export section of the Pact Growth Accelerator.
You can also find recordings with US and Canadian commissioners and execs from Realscreen, interviewed by Boom! PR's Justin Crosby, here.