Cardiff-based Vox Pictures was founded by industry veterans Adrian Bate and Pip Broughton in 2013. It was at this time, when the company was in its fledgling days, that Pip first spoke to experienced writer Matthew Hall about pitching drama ideas for the small screen. One of the ideas Matthew came back with was Un Bore Mercher/Keeping Faith, the hit Welsh noir thriller which earned the company six BAFTA Cymru Awards nominations last year, three of which they went on to win.
Un Bore Mercher won audiences over with its honest portrayal of a woman - Faith (played by Eve Myles), a dedicated mother of three - trying to figure out what's happened to her husband after he seemingly disappears one day. The eight-part series was filmed in Wales and first broadcast in Welsh on S4C. It later became the first BBC Wales/S4C-produced drama to go out on primetime BBC One, where it reached a nationwide audience and became one of last year's most talked about TV programmes.
Pact caught up with Adrian and Pip to find out how they kept faith (excuse the pun) in the project – which took almost five years to make it to our screens, what the show's success has meant to their young indie, and to try to get some clues about what's in store for series two…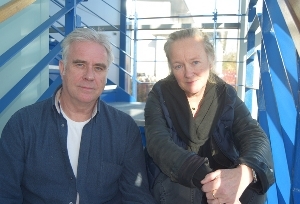 When Matthew first shared with you the idea for Keeping Faith, what did you see in it that made you believe it was a project worth sticking with?
PB – Matthew and I were looking for a female led show with popular appeal. We wanted to make a project that had intimacy and authenticity, that was essentially warm at heart and was bereft of cynicism. Keeping Faith was that show. It was easy to pitch: 'What would you do if the person you loved, who you thought you knew better than anyone, kissed you goodbye one morning and never returned?' It was a universal story, addictive and relatable.

S4C were the first broadcaster to come on board back in 2013, but it sounds like it was a long slog to get others on board and to move the project forward after that. How did you manage that difficult period, particularly as a fledgling indie?
AB – There were a lot of meetings in noisy coffee bars for about a year before we did an 'umbrella deal' with Objective Media who let us use a corner of their office whilst we shot our first feature film, Just Jim with Craig Roberts. That gave us the confidence to open our office in Cardiff and start to build the infrastructure that can and does support Keeping Faith.
PB – Sure it was difficult and frustrating, particularly some of the 'no's that simply didn't appreciate the punch of the premise but the upside was we had eight scripts ready to go by the time we started shooting.

You filmed the programme both in Welsh and English. Can you tell us about what sort of impact that had on production and budgets? And why it was done.
AB – I was wary of shooting back-to-back in two languages but we were lucky to be able to talk to the pathfinder producers of Hinterland, so managed to avoid a lot of the pitfalls. The budgeting is a fairly mechanical process, we knew we needed more time and resources in certain areas so we made sure we had these covered. The budget still had a sizable shortfall despite having two broadcasters committed (S4C and BBC Wales) so we needed the help of the deficit financier Nevision and the Welsh Government. The biggest learning curve was post. Originally we thought that the edited shows would (more or less) shadow each other but in reality each episode has it's own rhythm and uniqueness so it really was like delivering a 16-part series (not to mention the International eight hour version as well!).

The show was the highest-rated series on BBC Wales for more than 25 years and became the most downloaded non-network show on BBC iPlayer of all time. Were you at all surprised by the level of its success, and why do you think it resonated so well with audiences?

AB – I think we always felt confident that the quality of storytelling and performance would resonate with the audience – and so it proved to be when it delivered the highest drama audience for BBC Wales for 25 years. What did take us by surprise was the impact that it had on iPlayer which in turn was driven by social media. Never again will I under-rate the chain reaction of social media and how it can now make or break a show.
PB – Audiences like something different. Keeping Faith has a different look with lots of colour, a hyper-real acting style and a heavy use of song. I was encouraged by the execs to be free, to deliver a highly authored show with a distinctive feel. Creative freedom breeds originality and this is rare nowadays. Also the audiences simply fell in love with Eve's Faith, her imperfection, her couldn't-care-less attitude to other people's opinions yet her pure passion for justice and what is right.

Had you anticipated that the show would reach an audience beyond the UK too? And how much do you think about the global audience when developing your ideas?
AB – Keeping Faith is not procedural, it's not a crime driven show, it's not a lot of the things that we are being constantly assured makes a series globally successful. What it does do superbly well is tell an emotionally driven story, mainly from a woman's point of view (Faith's) that makes the audience wonder what they would do if their partner just 'disappeared' one day. It recognises that life is fragile and Faith's life is shattered in a heartbeat. Then it's about survival and the primitive need to protect family. Strong universal themes that have proven popular both inside and outside the UK.
PB – It's a universal story for a universal audience. Yes, it has a very specific setting, on a stunning coastline in a small rural community, but the themes are love and betrayal, so speak to everyone.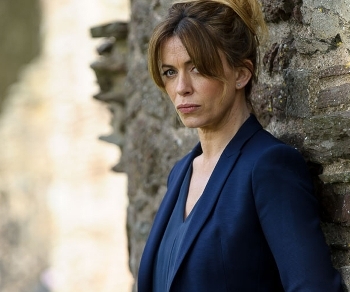 Pip, you directed the series, which had a high proportion of women working on it behind the scenes. The on-screen portrayal of Faith has also been rightly praised, with Eve Myles' performance winning her a BAFTA Cymru Award. How important is it to you as a company to strive for on- and off-screen diversity?
PB – Diversity has been important to me all my working career, be it running theatres or directing/producing television drama. It's important to Vox. We named the company Vox because we want to grow and nurture creative voices and give new voices a chance. The identity of Keeping Faith is strongly female. How often do you see a police interview scene where all four of the characters are women? Bloody great.

As a Pact member, which services do you use and value the most?
AB – having the initial meeting with Pact always signifies to me that the production is probably going to happen! In the case of Keeping Faith it was a complex process because of the need to create hybrid agreements that would reflect the complexity of having S4C as the primary broadcaster, followed by a 'geo locked' BBC Wales transmission and eventual Network Transmission on BBC1 whilst delivering a fully cleared version for international distribution. I know that there is a lot more we could be doing with Pact and hope to form closer ties next year.

What do you think are the biggest strengths of the production sector in Wales at the moment, and what more could be done by the Welsh Government and others to encourage further growth?
AB – Obviously the Welsh Government is doing something right because of the explosion of production in Wales, but at the same time it's encouraging and worrying. Vox has been established in Cardiff for four years now and this is where we plan our long term growth. The commercial support the Welsh Government can offer is just that – commercial. Its business model is more suited to theatrical films rather than TV, so I hope that the system can evolve to be more sympathetic to TV and to help establish longer term relationships with companies as well as specific production related support. The production sector in Wales also needs to focus on the threat of a skills 'drought' if and when too many productions go into production simultaneously.

If there was one thing you could change about the industry right now – that would help your business most - what would it be?
AB - Diversity. I feel there is so much 'shop front' discussion and short term fix schemes which just 'band aid' the problem. And as recently identified, there seem to be specific problems to be solved regionally. I do believe solutions can be found with a medium to long term strategy, but it needs genuine commitment and stability within the sector to achieve it.

Vox Pictures is now five years old. Are you where you imagined you would be at this stage when you set the company up, and where do you hope to be in another five years' time?
AB – I don't think anyone really expects to be where they thought they would be after five years, so predicting the next five years is just as precarious. The bottom line would be 'doing good work' in an industry which is changing so unbelievably fast. This year we have produced a successful TV series for two broadcasters, a film poem for BBC2 and a feature film that will be released next year. I hope we will continue to produce a diverse range of productions that give a voice (Vox) to an equally diverse audience.
PB – In five years time, mmmm, I hope we will be making audacious and distinctive work with the best talent. I hope we will be trusted by commissioners and talent alike. I hope we will still be having fun. I hope we won't have given up.

Finally, can you share any secrets with us about what we can look forward to in Season 2 of Keeping Faith??

PB – It takes place 18 months after Season 1 and many of the characters are the same, but they all bear the scars of the events of Season 1. Eve is sensational.
Pact would like to thank Adrian and Pip for taking part in this interview, and Vox Production Assistant Amy Jones for helping to faciliatate it.