< Go back to events listing
StoryFutures Briefing Event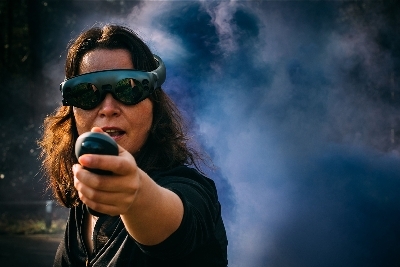 StoryFutures is one of the new UK Creative Clusters and is offering funding opportunities, business support and networking to creative and digital SMEs interested in, or already working on, next generation storytelling such as virtual, augmented and mixed reality. It's known as the Gateway Cluster and is located just to the west of London, but companies outside the area are welcome to join projects if they collaborate with cluster-based SMEs.
This briefing event will give attendees the chance to:

- Learn about StoryLab, their R&D commissioning process: Hear from The National Gallery, partners on a pilot R&D challenge that tackled immersive art, as well as the winning SME developing the prototype in collaboration with the StoryFutures research team.

- Find out about the next R&D Challenge, in partnership with Heathrow Airport, which has a £60,000 production budget. Find out about the challenge and the R&D expertise on offer to develop it.

- Network with others and gain support: Find out about StoryFutures' innovation support opportunities, including their production facilities and hot desking space. Meet potential new commissioners and collaborators, and network with other innovative SMEs in the region.
- Visit their Audience Insight Labs – Explore their testing facilities and meet the research team who offer cutting-edge expertise in audience behaviours in next generation story formats and environments.
Find out more and register for free here.
Interested in learning more?