The COVID-19 pandemic has impacted all of our lives, but how are Pact members adapting? We've asked them to share their lockdown lessons and reflections on where the industry might go from here.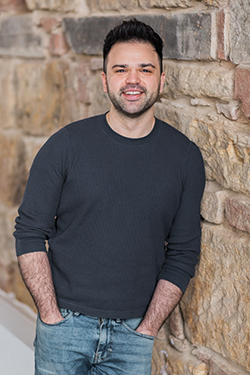 Naysun Alae-Carew is the Managing Director of Blazing Griffin, a BAFTA-winning Glasgow-based digital entertainment company which specialises in telling stories across a wide range of platforms and mediums with a specific focus on video game development, film and TV development and production and post production services.
Naysun produced the feature film Anna and The Apocalypse (Orion/MGM) in 2018. Blazing Griffin Post Production's recent credits include editorial services on Outlander (Starz/Sony TV), strong factual output for episodes of specialist documentaries including; Dispatches (C4), Imagine (BBC) and Murder Case (BBC), and full picture post on the highly acclaimed BBC drama Guilt.

"I have missed filming! I have not missed the constant travel."

How did you adapt to working from home during the lockdown, and what does a typical day look like for you now?
We moved to working from home just over a week before official lockdown so had a little bit of an easier transition than many, although we had a lot of technical solutions to implement for our post production and video games teams. These days if required we're able to go into the office but the vast majority of staff are working from home for the foreseeable. Generally a typical day for me is not so different from being in the office, except that I get more focused time and quite a lot more done!

Do you have any caring responsibilities and if so how are you balancing that with your work commitments?
My lockdown-life has been quite different from most as we had our first child in April and so it's hard to separate lockdown from being a new parent. In some ways I'm grateful for the time I've had working from home as I've been able to be a more present parent and help my wife out much more than I otherwise would have done. At the same time, it's been busier than ever at work but because I'm much more efficient working from home I've been able to balance – I don't know how I would have managed otherwise!

Video calls and virtual meetings: love them or hate them?
Love them – mostly. Usually quite to the point, people are much more punctual (myself included). Not as good for general brainstorming or getting to know someone. I'd much rather see people in person but at least via video calls I can get the teams together on a regular basis.

What one thing about working in the industry have you missed most through this period? And what have you not missed at all?
I have missed filming! I have not missed the constant travel.

How are you running your team and keeping up morale whilst you're not all able to be in the same spaces?
Regular virtual town hall meetings and managers have lots of touchpoints with their teams throughout the week. Early on we also did regular written updates and virtual socialising which helped us all bridge the distance and feel less remote, as lockdown eased that became a lower priority. Still, it's not easy for everyone, but communication is key.

As a business leader, what has been your biggest challenge during the crisis?
Uncertainty, as well as government schemes that get announced but not implemented.

Have there been any surprise benefits to the changes that the crisis has brought?
As above – new parent!

Have you made any changes to the way you/your indie does business during the crisis that you plan to continue beyond it?
Working from home will become much more common, even afterwards.

How have you had to adapt your business strategy in light of the on-going impact of COVID-19?
No, we continue to work flat out although have looked at different shooting locations depending on COVID restrictions. There have been some delays but we continue to follow our original strategy.

What films and TV series have you been enjoying most this year?
I'm late to the party, but Cobra Kai has been wonderful.

What lasting change do you hope we might see in the industry once we're through this crisis?
Better working hours for shooting crew.
Pact would like to thank Naysun for taking the time to answer our questions.
If you would like to feature in our member interview series, please e-mail membercomms@pact.co.uk.