On Friday 24th June, we hosted our Indie Summer Party to celebrate 30 years as the UK's trade body for the TV and film sector. Over the past three decades, the sector has transformed from a cottage industry to a £3 billion success story.
With entertainment led by actor, comedian and writer Hugh Dennis and broadcaster and presenter Miquita Oliver, the event also featured a DJ set from global icon Boy George. Over 700 guests were in attendance, ranging from the indie sector's most established and successful players, to the most exciting new talent who are set to be the gamechangers of the future.
During the event, twelve indie legends were awarded tributes, following nominations from their industry peers, and judging by a diverse panel of 23 industry experts.
There were two categories for tributes:
Creativity, disruption and innovation - nominations could be made for individuals or indies who have changed the game, whether through their productions, actions or personal leadership.

Unsung hero - individuals who go above and beyond – the people who make productions and businesses a success but who never get the recognition they deserve through traditional industry awards.
A full list of winners with citations can be found below.
Speaking at the event, Pact Chair and co-founder of 60Forty Films, Hakan Kousetta said: "I'd like to congratulate all the tribute winners – each one is very well deserved.
"The past 30 years has seen the indie sector go from strength to strength and it's fantastic to have so many people here today to celebrate the creativity, disruption and innovation that has led to this success.
"I'd like to thank our supporting partners - Channel 4, Channel 5, Netflix, BBC Studios, Sky, All3Media International, Banijay, Audio Network, Helion Partners, Beyond Rights and Tysers – for helping to make this celebration happen.
"And I'd also like to thank previous Pact Chairs, Vice Chairs and all the members who have actively contributed to help Pact achieve so much over the past 30 years.
"Despite the many challenges that face the indie sector, today is a day for raising a glass to celebrate our many collective achievements to date, and to look forward to many more decades of success to come."

Tribute Winners
The following people were awarded a tribute for their creativity, disruption and innovation: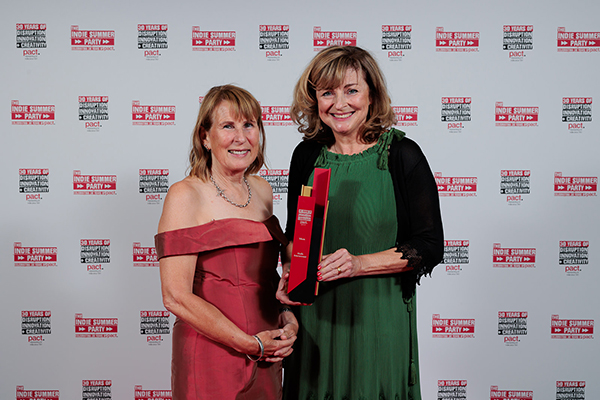 Anne Brogan and Melanie Stokes, Kindle Entertainment - having formed their multi-award winning independent production company in 2007 specialising in children's and family drama and entertainment, these two recipients are 'disruptors, innovative creators, nurturers and quiet heroes' of the industry.

Dhanny Joshi and Thomas Stogdon, Big Deal Films - formed in a back bedroom in 2014 to champion stories for under-represented groups and shift the dial around who gets access to audiences and influence. Dhanny and Thomas 'create work environments where people can flourish, prioritising learning and development'.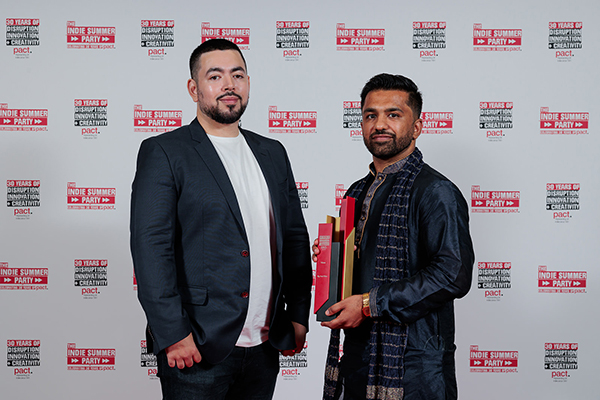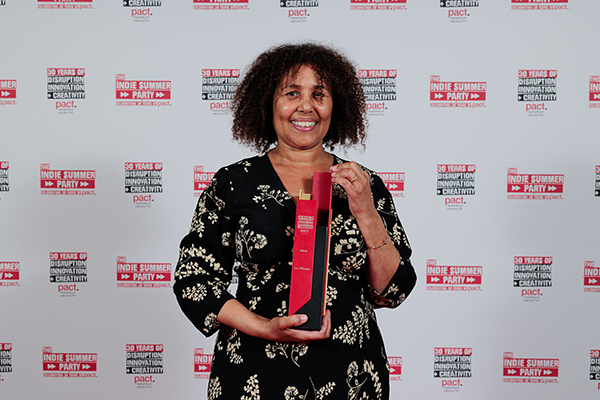 Lucy Pilkington, Milk and Honey – Lucy has been an inspiration and a beacon of support to women of colour in the industry. Now running a successful small indie which she hopes to grow into a major force for change in the industry, Lucy is focused on finding collaborators in front of and behind the camera who are women, mothers, from working class and ethnic minority backgrounds and those with disabilities.

James Burstall, Argonon – it's twenty years since James launched his first business, motivated to create a new global powerhouse with a positive, inclusive culture for A-list talent to do their finest work, with total creative freedom and zero tolerance for toxic behaviour. James champions women in senior management and used the pandemic to reimagine his business model.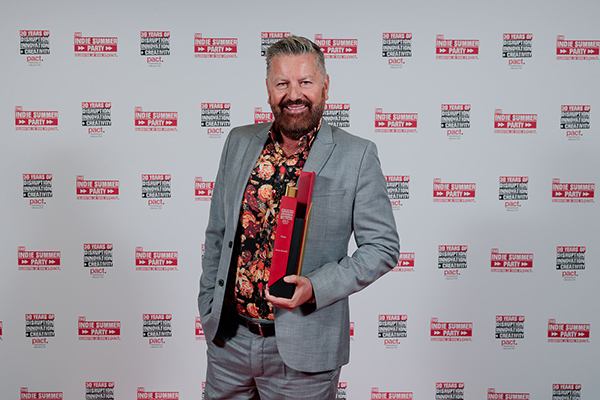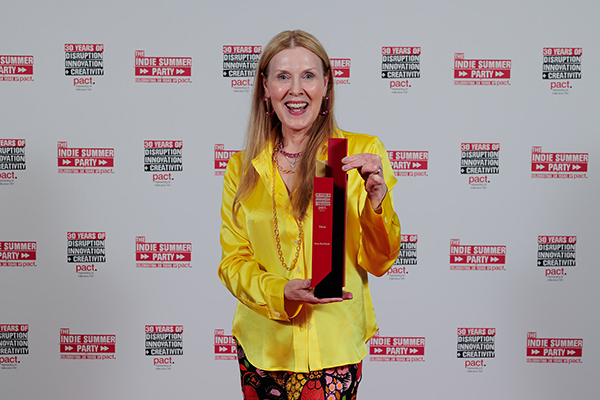 Jane Muirhead, Raise the Roof - Jane is a leading light of the Scottish production sector and she has a reputation for creating an environment where staff can develop and grow. Investment in training is her top priority and she works tirelessly to bridge the gap between industry and higher education. Flexible working and inclusivity are highly valued and that's evident in her work and support for talent.

Sue Vertue, Hartswood Films – Sue is one of the UK's most successful and prolific television producers with a 30-year career in the industry, but it's Sue's reputation for enthusiasm, steely determination, stamina, compassion and an ability to listen, combined with a sixth sense for how to make great and popular TV, that mark her out. At a time when the industry is wrestling with how to be more inclusive and healthy, Sue leads by example.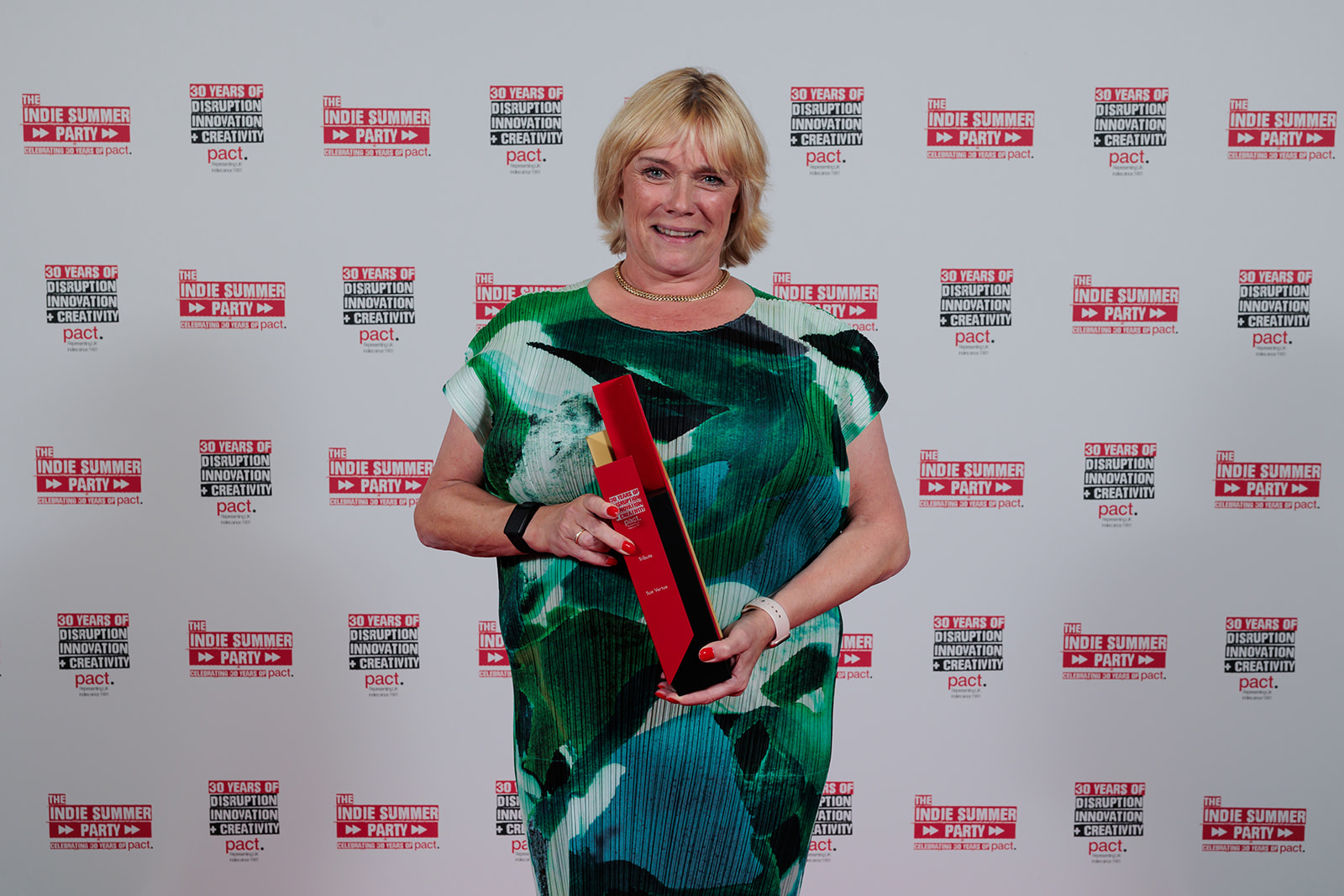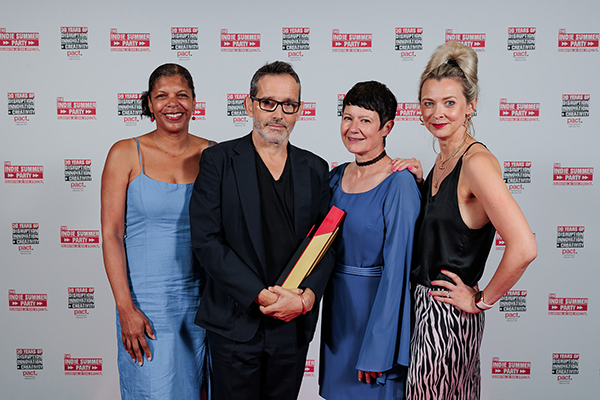 Danielle Lux and team, CPL Productions - the management team won plaudits from staff for steering them through the choppy waters of Covid and somehow managing to keep everyone on the books, win new commissions and maintain staff morale throughout. They are committed to open and honest two-way discussion across the company and show a genuine desire to bring out the best in everyone. They are 'applauded for inspiring staff to do better and reminding them why they went into TV in the first place – to produce good telly, have fun and make life better.'
Rebecca O'Brien, Sixteen Films - Rebecca embodies a true independent spirit and has produced over 38 films. A champion of new talent, she has always been happy to give her time, expertise and knowledge to new generations of indie film producers. She is 'outstanding technically, brilliant creatively, savvy, and tough when appropriate but is always kind, and every production comes from the heart. A friend when in need, and a role model for all.'
David Frank (posthumously) - David was chosen by the judges for his outstanding contribution to the industry. 'His commitment to improving indies' rights cannot be over-stated and he did possibly more than anyone to put the UK industry on the map as our domestic reputation for producing great content became ever more global.'

And the following were awarded an Unsung Hero tribute: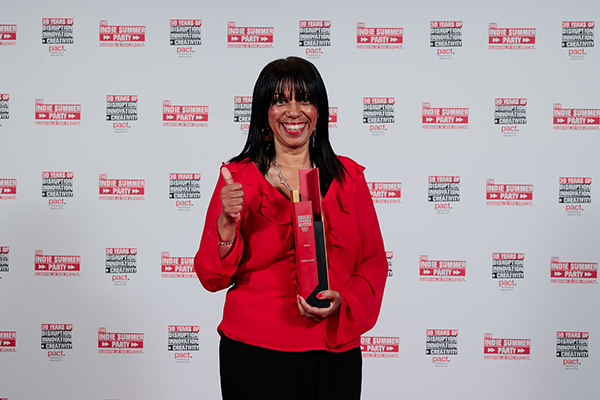 Barbara Emile, TV Drama Producer - Barbara was the first black series producer at EastEnders, helping the show attract record-breaking audiences of over 25 million. She engaged a fully diverse crew off-screen and with her editorial team established a shadow writer and director scheme to ensure access and diverse representation. 'She assiduously avoids the spotlight not seeking acclaim but only wishing to import her prodigious knowledge and wisdom for new diverse talent. Those who know and work with her speak of integrity, honesty and talent.'
Caroline O'Neill, Series Producer, Flicker Productions and Co-Director at Deaf and Disabled People in TV - Caroline is a series producer/director and development executive with over twenty years' experience in the industry. She dedicates her spare time to co-directing the organisation Deaf & Disabled People in TV, a private online space enabling deaf & disabled television professionals across all genres to connect with one another, share job opportunities and share advice and guidance. Caroline is described as 'fearless' and 'always delivering commitment, creativity and enthusiasm.'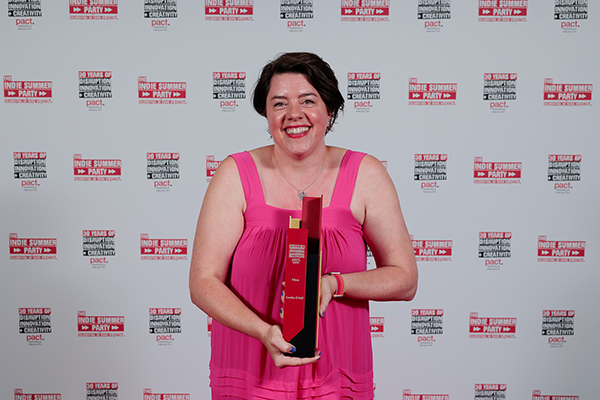 Emma Cockshutt, Television Legal and Business Affairs Consultant - Emma has shown unflappable dedication to supporting the editorial vision of programme-makers throughout 35 years at the coalface of legal and business affairs in the UK TV industry. Colleagues secretly call her 'the oracle' because there's nothing in her field she doesn't know. A kind and remarkable person with a stunning legal brain who deserves recognition for everything she has done – and continues to do – for the legal and business affairs community.
Pact would like to congratulate all of the Tribute recipients and to thank everyone who supported and celebrated our 30th Anniversary with us.
Pictures from the event can be found here.