We hosted 48 online sessions over three days at our recent Content Without Borders (CWB) symposium, followed up with hundred of 1-2-1 meetings between Pact Members and international broadcasters and buyers.
Gareth Jon Strachan, founder of Blisstopia Productions and relative Pact newb, was one of those in attendance and here shares his experience of taking part in CWB with us…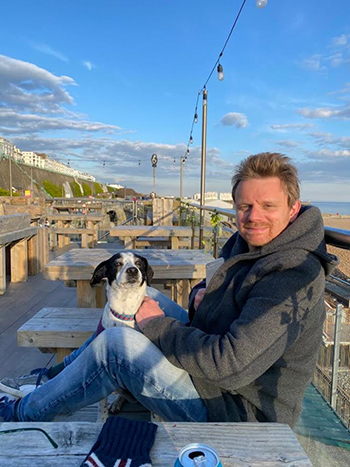 I arrived - well clicked on the zoom link – for my first one-to-one meeting with an Israeli Producer, armed only with a half-baked idea of what I would say, anxious that my 20 year old laptop would start to give away its age and incompetence, with my imposter syndrome fully intact. The usual inner monologue:
Why am I here? What if they find out I am actually – well what actually am I? I only joined Pact coz I saw that Channel 4 were accepting comedy submissions. But now I've joined, why are Pact being so nice to me? Why are they offering me all these opportunities? Don't they know I'm like the tiniest droplet in the vast production ocean? Don't they realise I'm nobody? I mean, what does Pact even stand for? Producers Alliance of Charlatan Trainees – I mean, isn't that what I am? A Charlatan –
And then, with those diminishing thoughts racing through my head, something happened. A very kind and gentle Israeli man – a bit younger than me – smiled up at me through the screen and said 'Hello Gareth from Blisstopia Productions'. And – click – we started to have, well, a very cordial chat. And I'm actually damn good at that. In fact, chatting is what I "do" and it's pretty well much defined the path of my life and the various incarnations of living that were necessary for a struggling writer. I've sort of chatted my way through most things and it's got me places – admittedly not always the right places – but a simple chat can go, and take you, a very long way. Especially if you've got something to say: a story or two to tell. And I do. Many. And that is why I became a producer. Partly accidentally, partly out of necessity… but entirely because I wanted to tell my many stories to as many people as possible.
In the four, nearly five, months I've been with Pact, I've had about twenty-five such chats, largely through Content Without Borders – each one of them unique, inspiring (and international!). Let's for a moment upgrade these 'chats' to 'discussions' (but understand one is just a fancier word for the other) - and not just any discussions: conversations with individuals and industry that have changed the way I think about my work and myself; positive reframing about the kind of producer I am, honest reflections on the considerable work I've put in to get here, what I've been able to achieve in the short space of time I've set up Blisstopia Productions (two completed pilot episodes, 2 members of staff, 2 live shows, a wealth of content in the works), the high quality of the material my tiny little outfit is offering the world – but tiny drops make significant ripples. Discussions that I've wanted to have for the last twenty years – arguably my whole life – but never had the wherewithal, the opportunity, nor the roadmap to know where to even begin. Discussions that have been met with interest, with enthusiasm, with respect and, to my delight, highly positive feedback. 'Wonderfully bonkers' (the work, not me…well, maybe me) was the feedback from the Head of Channel 4 Comedy about MyalogueTV, my comedy sketch show. 'Brave, eclectic' was the feedback on my Dystopian animation, Blisstopia; this from a certain anonymous person that may or may not be The Head of AppleTV Europe. And while the cheque's not been signed, sealed and handed over just yet – the fact that people are engaging and responding fills me with something I've not always had in great volumes: confidence, belief in what I'm doing and a clear path forward. Oh - and useful, significant contacts.
Joining Pact has been a game-changer for me. I feel like I'm being taken seriously at last, learning a huge amount about how to traverse this slightly mad (but exciting) production world, building momentum with each conversation I have, and seeing my efforts pay off. Wearing my fairly unworn 'producer's hat', I'd go so far as to say I feel like a proper, professional producer; one who knows how to use alliteration to punctuate his point.
And that Israeli Producer I mentioned a few paragraphs above… well we did something very rare in these zoom-confined times: he flew into London and we met face to face. In a pub. Over a pint of beer. And had another extremely cordial chat. With another one planned next week…
www.blisstopiaproductions.co.uk

Pact would like to thank all of the broadcasters and distributors who took part in the CWB symposium this year, and Gareth for sharing his experience of it.

If you would like to catch-up with sessions from the CWB symposium, you can watch them on-demand via the Pact Growth Accelerator.