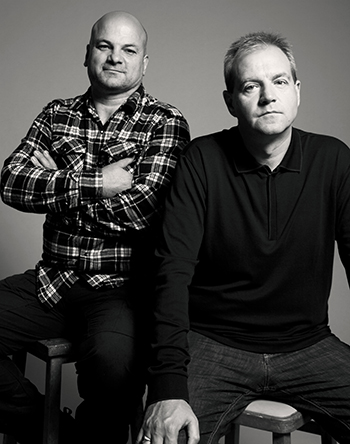 Liverpool-based Hurricane Films is owned and run by Solon Papadopoulos and Roy Boulter. For over a decade, they have been bringing compelling stories to both the big and small screen, and garnering awards and critical acclaim along the way.
Recent feature projects include A Prayer Before Dawn, a fictionalisation of the true story of Billy Moore, a Muay Thai fighter who was arrested in Thailand and sent to one of the country's harshest prisons; and A Quiet Passion, Terence Davies' biographical drama detailing the life of Emily Dickinson.
Their latest film, Sometimes Always Never stars Bill Nighy and is a heartfelt comedy-drama about a Scrabble-obsessed tailor searching for a lost son. It will have its World Premiere at the BFI London Film Festival on Friday 12th October.
Pact caught up with Sol ahead of the premiere to get an insight into the company's success, and hear how being based in Liverpool provides access to a rich pool of local writing talent... but also results in a lot of time and money on trains!

Can you tell us a little bit about how you and Roy came to found the company?
Well we first met when Roy was drumming for a band called The Farm with writing aspirations and I was a stills photographer who also made short documentaries – the result of that initial meeting was the cover of The Farm's single Stepping Stone – a sheep wearing flares and kickers!
Fast forward several years and with Roy's experience of writing over 100 hours of Brookside and with my experience making international documentaries, we teamed up to start Hurricane Films. So a friendship turned into a working partnership. Don't ask how it works but somehow it does, even though we have very different tastes and disagree on most films and scripts!

Running a successful indie for over a decade is no mean feat, what's your secret?
Not sure we have a secret. We are constantly surprised we're still here! Like most, we started out looking for television commissions and in the usual manner put proposals to the broadcasters (before the explosion of content outlets we have today). We slowly discovered our interests and ambitions were for long form, cinematic storytelling.
Like most producers what gets us excited are great scripts, directors and powerful storytelling – but both of us have to agree on the projects - which doesn't happen that often. Of course the long development process of film doesn't lend itself to running a sustainable company – so we also do work to 'keep the lights on' including immersive films for museums, film installations and film production for local universities. Being out of London helps in that the overheads are not so crucifying but that's made up for by the spend on train travel – we are in London most weeks.

It's a particularly challenging climate for financing and making independent feature films in the UK. How do you make it work?
I don't think it's ever been as challenging as it is now. There's a drive to make films either at very low budgets (below £500K) or you're into finding star casting over the £7M range. Of course we happen to be in the middle ground, which is where most of our films sit and is, possibly, the most difficult budget range to finance. We are big fans of co-producing and we also executive produce, recently we were involved with a great 'elevated genre' film - The Boat, shot in Malta.
Our financing process is no different to anyone else in the feature film game and usually boils down to putting a whole number of finance elements together - e.g. pre-sales, co-production sources, soft money, tax credit - but the key that unlocks the finance plan is to find the equity element. There, we've been fortunate to have found a number of equity players eager to get into the industry. We are talking to those financiers about starting a Hurricane Film Fund and creating a slate that might make the whole process a far more robust business. But don't come to us yet with projects to finance –we're still setting that up!

Stills from Sometimes Always Never
What does being based in Liverpool mean to you and how do you feel it has helped (or hindered) your business most?
The film business is an international one so we regularly do the main markets every year Berlin, Cannes, Toronto and AFM. We also try to get projects into the co-pro markets like London's PFM (Production Finance Market) or the Berlinale. So a big outlay for us is travel and a large portion of that spend is on that train to London. I would say that being in Liverpool is both a help and a hindrance. Ideally we would be better off being based in any one of the nations of the UK other than where we are! But what we do have in Liverpool is a rich seam of writing talent, mostly working in television, who we try to convince to write features…usually for less money than they earn in TV.

How important has it been for you to work with local talent?
We are fortunate in that so many talented writers are based in the north west and in particular Liverpool. We encourage as many of them as possible to write the film they've always wanted to write. So far we have four features in development from local writers and one we have one produced and released; A Prayer Before Dawn was written by Nick Saltrese and premiered in Cannes 2017 to incredible reviews. It is now available on DVD and download in the UK and USA.
Other talent, such as younger aspiring filmmakers we encourage through a placements regime we run. Many have come through the Hurricane doors and we're constantly amazed at how well they do when they move on. Making the tea is included in the process – it's important.

As well as making TV and film projects, you are also engaged in social and educational projects. How do these fit into your overall company strategy?
We're based in a city that historically has a strong community mindset. We are very much of the same thinking. Our most recent community project is a feature length biopic of the great trade union leader Jack Jones. We made this with the support of the unions and in particular UNITE and UNISON. Unsung Hero: The Jack Jones Story is currently on a limited screening tour of the UK. It would be nice to think we could get this onto TV but it might be too niche. We keep trying though.

As a Pact member, which services do you use and value the most?
The template contracts are a huge help as are the Pact/Equity pay rate cards.

What more do you feel could be done in the sector to encourage growth and success in the English regions?
It seems harder than ever for entrants into the industry, especially if you don't have the means to support yourself. Working class youngsters in particular are finding it a challenge to do the expected free internships to get a foot on the ladder. A development pot for feature film that is aimed at encouraging those who don't have the means to enter the film industry. Maybe a sponsorship scheme that actually pays young people to work with production companies. I know some exist but there needs to be more.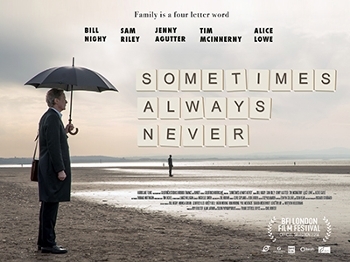 If there was one thing you could change about the industry right now – that would help your business most - what would it be?
Obviously no BREXIT. This is going to have a big impact on those of us who co-produce with Europe. It may already have done damage. There need to be more gatekeepers and doors to knock on for both film and business support. Development cash is hard to come by and is vital. Some weeks it's hard to stick to our motto – you should be whistling on your way to work – but we keep trying!

Thank you Solon.
Sometimes Always Never screens at the BFI London Film Festival on Friday 12th, Sunday 14th and Sunday 21st October. Tickets are now sold out.