In March this year, Broadcast Magazine named Glasgow-based Firecrest Films as the 'fastest growing independent TV company outside of London.' You only have to take a look at their volume of output so far this year to see why; recent credits include Tessa Jowell: Her Last Campaign (BBC One), Inside Facebook: Secrets of the Social Network (Channel 4), Supershoppers: Season 5 (Channel 4) and Cosplay Saved My Life (BBC Three).
The indie's founder and MD, Nicole Kleeman pinpoints the origins of this current boom back to January 2017, when Firecrest received investment from the Channel 4 Indie Growth Fund, and Iain Scollay and Mark Roberts joined as joint creative directors.
Nearly two years on from that key moment, and a couple of months since another round of key recruitments to the company, Pact caught up with Nicole, Iain and Mark to reflect upon the development of the business and how broader industry changes might open up further opportunities.

How did receiving investment from the Channel 4 Indie Growth Fund most significantly impact your business?

Prior to the investment, Firecrest had grown embryonically and slowly. We had built a strong reputation for high impact current affairs but much of our output was single films with little distribution potential.
The C4 Growth Fund deal allowed us to expand rapidly and significantly. It meant we could invest in key senior talent, with Iain and Mark joining the business, and diversify our output. We got commissions for the first time in key new genres, tripling our turnover in the first year, and we also increased the number of longer running series that we make. In addition to Supershoppers, recently commissioned by Channel 4 for a sixth series, we currently have three BBC series in production.

When Iain and Mark joined, did you set specific targets for growth, and if so how have you measured your progress?

We agreed a business plan with the C4 Growth Fund at the outset which we review annually and measure our progress against. It's been a very useful discipline – sobering at times but helpful to see our development.

What have been the key challenges you've faced in growing the business, and how have you addressed them?

Staffing has been a significant challenge for us in the past. The types of programmes we make are not a neat fit with the wider freelance pot on our doorstep here in Glasgow, which is geared more to daytime and features. With our current affairs pedigree, we need investigative researchers and producers, not only for Supershoppers and films like Inside Facebook but also across our wider output. Outside of current affairs, our programmes still tend to be revelatory, and require a lot of rigour and experience of tricky access, casting, and legal and compliance issues. In the last two years we've filmed extensively in prisons for both Channel 4 and the BBC, alongside courts, hospitals, schools and with children and other vulnerable contributors, sometimes in highly challenging situations.
We've had to skill-up a cohort of talent quite quickly, and as our slate multiplies, we've had to rapidly expand this cohort. We promote faster than many companies, and have a reputation for giving talented people a break. In the last year alone 14 people in our team have had promotions. We try to hold on to our talent long after the money from broadcasters dries up, to give them continuity of work and ensure sustainability at our end.

As a rapidly growing indie, how important has it been to have a successful returning series – Supershoppers – on your slate?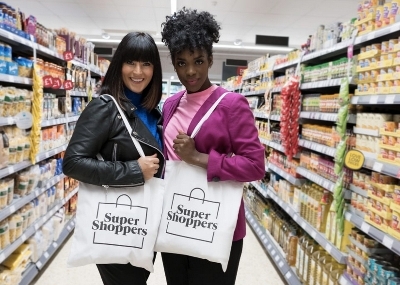 The success of Supershoppers has been central to our expansion as it has allowed us to cashflow the business and to invest and develop in new talent. Being magazine format means there are opportunities on the series to support promising APs by giving them a segment of their own to produce and direct with heavy mentoring, and, all going well, move them up to PD a whole programme of their own. The series has also been an engine of development and promotion for researchers, co-ordinators and even execs – the most recent SP on the series now looks after all our current affairs output. It's a testament to how successful Supershoppers has been in growing a Scottish talent base that another Channel 4 consumer series – Betty's Tricks of The Restaurant Trade – has been relocated from London to Glasgow this year.

As a Pact member, which services do you use and value the most?

We've used Pact's legal advice – a really helpful source of valuable, independent advice. The most helpful service though are the briefings and roadshows that unpick and simplify the details of the many complex discussions which are going on.

It's a vibrant and exciting time to be an indie in Scotland. How do you think Screen Scotland and the new Channel 4 Creative Hub will positively impact the sector, and what more do you feel could be done to encourage growth?

Potentially, it's a massive shot in the arm for the Scottish sector and a genius move by Channel 4. Not only could it help to redefine C4's remit in an increasingly competitive landscape, the diversity of voices that will come with this devolution could be a creative boost as well. And with Screen Scotland, we hope we now have a new body that values television production on a par with film as a vital component of the creative economy and can bring strategic support.

If there was one thing you could change about the industry right now – that would help your business most - what would it be?

Longer-term thinking. Over the last ten years in Scotland we've seen a succession of quick fixes trying to address fundamental underlying structural problems. With Channel 4 and Screen Scotland there's a sense that things may be changing. Scotland has been crying out for a strategy to create indigenous companies of scale regularly delivering network hits across a range of genres. When broadcasters think long-term it can deliver real, sustainable benefits.

This year was Firecrest Films' 10th Birthday, where do you hope the company will be in another 10 years' time?

We've come a long way from a one person back bedroom operation to where we are now. We made more than 20 hours in 2018, and could double that next year. In ten years' time we'd very much hope to still be here in Govan, making quality films and a bit of trouble.

Pact would like to thank Nicole, Iain and Mark for taking part in this interview.