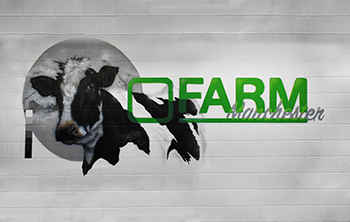 First announced in December 2017, the Farm Group's new state of the art base in the ABC Buildings in central Manchester is set to open next week. It promises to offer full-service post solutions for indies working in the region and will help to grow the pool of local creative talent.
The facility will be connected to the Farms in London, Bristol and LA with dedicated high-speed circuits, and will be fully 4K/UHD SDR/HDR & Dolby Vision capable, as well as offering Dolby Atmos. All offline, online, grade, vfx and audio facilities, including a 40-seat screening theatre, are housed on a single 25,000 sq. ft floor on the first level of the ABC Buildings, part of Allied London's new cluster for creative, tech and digital industries, Enterprise City.
The ABC Buildings forms part of Allied London's wider St John's development which also houses All Studios, the operational company bringing the historic Old Granada Studios back to life as full-service studios. It represents a significant expansion of production and post facilities in the North West and paves the way for further regional growth in the sector.
The Farm Manchester already has a pool of craft talent, but is looking to expand this further by nurturing new talent and attracting existing talent to the area. Whilst substantial renovation work was being completed on the ABC Buildings, they had been operating from a nearby temporary home on series such as Ambulance (Dragonfly) and Real Housewives of Cheshire (Monkey) and already have a number of bookings for the new facility, including several major dramas.
Paul Austin, MD of Farm Manchester commented: "Farm Manchester is going to change the creative landscape immeasurably. We want to give the current established creative heroes in the North West the environment and tools to deliver quality global content, and tomorrow's stars a place to learn their craft and grow."
Pact Chief Executive John McVay said: "The opening of the Farm's new facility in Manchester can only be good news for indies. As more production takes place in the region, producers need post facilities that provide the cutting-edge technology and infrastructure to meet their demand, as well as access to top creative talent, which is what Farm Manchester will offer."