This week Pact members are being given the opportunity to share their knowledge and experience with high level executives from the Chinese Broadcast industry as part of the first ever Pact UK China Exchange. This initiative, supported by the UK Government Prosperity Fund is an opportunity for Chinese broadcasters and leading production companies to gain first hand experience of TV production in the UK, and for UK companies to build meaningful relationships with a view to developing future projects with Chinese partners.
The Exchange comes on the back of the UK-China co-production treaty which was agreed in December 2016 and the Pact TV Export Report finding that there has been a sizeable increase in UK TV exports to the Chinese market in the last year, up 40% on 2014/15.
The week's activities kicked off with a full-day of briefings and talks at London's Roundhouse on Monday 13th February. The event was attended by the Chinese delegation and over 70 UK indies. There was a networking lunch and speakers on the day included Mike Beale, EVP of Global Development and Formats at ITV; Ben Frow, Director of Programmes at Channel 5; and Simon Smith and Peter Craddock of Studio Liddell.
Pact's Director of International Development, Dawn McCarthy-Simpson commented on the Exchange: "This is the first time that this type of programme exchange has ever taken place and it has been designed to develop a deeper level of understanding of each other's cultures and working practices. The Chinese executives will be able to spend a period of time with UK production companies and really learn about how programmes are produced in the UK. They will be able to build great relationships, better understand the UK TV market as well as having quality time to discuss future collaborations."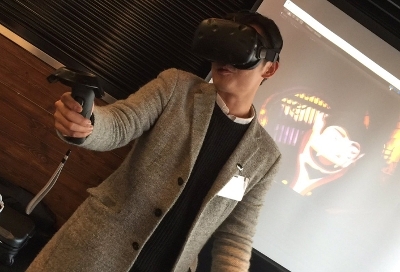 Patrick (Gu Ting) from Jiangsu Broadcasting Corporation (JSBC), China's third biggest television network commented: "There is an old saying in China, 'seeing is believing'. This event organised by Pact provides an opportunity for effective communication and future cooperation between British and Chinese production firms. Their work is professional and considerate, not only providing an open environment for business discussion, but also a warm atmosphere, making everyone feel at home."
The Chinese delegation are in the UK until Saturday 18th February and are spending two days with selected UK indies, to immerse themselves in the companies' operations and have time to work on ideas for possible future collaborations.
Founder of UK indie Youngest Media, Lucas Church said of the Exchange: "We were very fortunate to host representatives from leading Chinese broadcasters for the day. So much more productive than the usual superficial meetings held at markets. Thank you Pact for making this happen."
Pact is planning to take a delegation of UK companies to China later this year and is looking to hire a full-time Chinese-language assistant to its international department to assist with its China strategy, which will play an important part in the organisation's international work going forward.