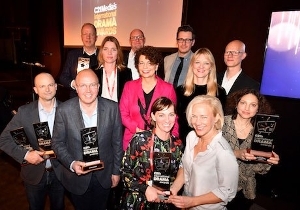 This year's C21 International Drama Awards took place in London last week. Amongst those picking up recognition for their work were Pact members Sid Gentle Films, whose dark international crime thriller, Killing Eve won the Best English-Language Drama Series Award and a Best Female Performance in a Drama Series Award for Jodie Comer. Two Cities Television and Little Island Productions' Patrick Melrose - starring Benedict Cumberbatch and based on the semi-autobiographical novels by Edward St. Aubyn - won the Best Miniseries Award, whilst Playground Television and Sonia Friedman Productions' King Lear picked up the Best Casting of a Drama Series Award.
Congratulations to them and to all the winners.
To see the full list of winners click here.