We are pleased to announce that the Pact Diversity microsite has officially launched.
The site offers a full range of resources to help businesses create and increase diversity both on and off screen, including links to broadcaster targets, legal guidance, information on the Diamond diversity monitoring system and industry diversity schemes.

Pact CEO John McVay said: "Pact is committed to improving diversity within our industry by working with indies and broadcasters. Our specially designed site is part of our strategy to create practical solutions to help organisations ensure that diversity is at the very heart of their business."
Using the site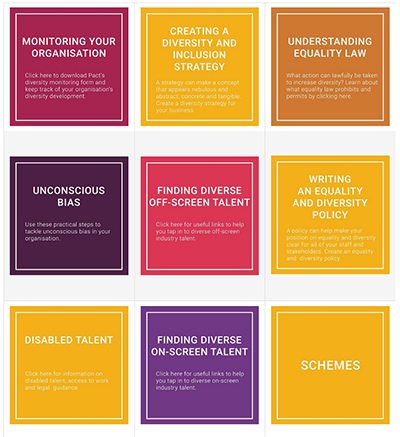 One of the key features on the site is a toolkit which can be used to help create a practical strategy to make indie businesses and their content more diverse. It includes a guide to creating a diversity and inclusion strategy, useful links to help businesses find diverse talent both on and off screen and at different levels within the industry, and a monitoring form so indies can keep track of their diversity development.
Pact's Head of Diversity Anjani Patel said: "We've worked hard to make this site a one-stop shop for diversity information and key links for those working in the TV industry. We want to make it as easy as possible for indies to start implementing diversity strategies within their businesses and to have all the information they need to do that at their fingertips."
Visit the Pact Diversity microsite here.