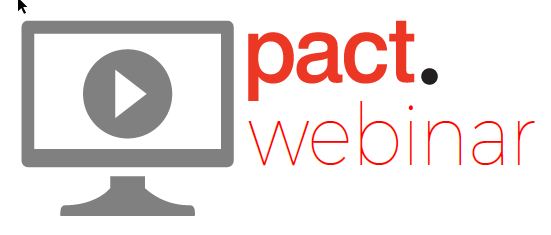 Pact webinars are hosted and co-hosted by professional speakers and in association with key figures in the Television and Film Production sector. Pact also hosts webinars to discuss key upcoming industry topics and events.
Our webinars are free and are suitable for all levels of experience from introductory to advanced.
Currently, we are running a series of webinars supported by the BBC. All upcoming webinars are listed on the Pact Events Calendar.
To view the recordings from previous webinar sessions, click on the links below.
Pact Webinar Series supported by the BBC - Catch up:
Jo Wallace, Commissioning Editor of Entertainment, BBC
Shane Allen, Controller of Comedy Commissioning, BBC
Jo Clinton-Davis, Controller of Factual, ITV
Guy Davies, Commissioning Editor of Factual, Channel 5
Andrew O'Connell,VP Development and Production at Discovery Channel and Discovery Science
Dorothy Byrne, Head of News and Current Affairs, Channel 4
David Royle, EVP and Chief Programming Officer of Smithsonian Channel
Winona Meringolo, SVP Development, Investigation Discovery and American Heroes Channel
Deborah Dunnett - Manager of Nations and Regions at Channel 4
Cameron Roach - Commissioning Editor at Sky Drama
Tom Giles - Controller of Current Affairs, Broadcast for ITV
Victoria Noble - Senior Director and Executive Producer - Factual, for Discovery Networks International
Richard Watsham, Director of Commissioning at UKTV
Greg Barnett, Commissioning Editor of Factual Entertainment at Channel 5
Markus Sterky, Programme and Commissioning Strategist, SVT
Adrian Padmore, Commissioning Editor - Factual, Channel 5
Maria Mowbray, Head of Development, Bonnier Broadcasting (Sweden)
Jessica Schmiedchen, Development Executive, Unscripted Content, CBC (Canada)
Amanda Rees, Creative Content Director, S4C
Philipp Bitterling, Head of Programme Development and New Formats, WDR (Cologne, Germany)
Alf Lawrie, Head of Factual Entertainment, Channel 4 (NB. no visuals, just audio)
Shirley Jones, Commissioning Editor, Entertainment and Arts, Sky
Alison Kirkham, Controller of Factual Commissioning, BBC
Elisabeth Hagstedt, Head of Acquisitions and Coproductions, Histoire (France)
Diana Carter, Commissioning Editor, A+E Networks UK

US Pre-Realscreen Webinars - 2018
Charlie Parsons, VP Development, National Geographic Channel
Russ McCarroll, SVP Development and Production, Discovery Channel
Bill Gardner, VP Programming and Development, PBS
Mary Donahue, SVP Programming and Development, History
Steven Lerner, SVP Programming, Scripps Networks Interactive
Laura Fleury, SVP, A+E Networks Unscripted Programming and Co-Productions

Pact webinars in partnership with Creative Europe Desk UK

Pact partnered with Creative Europe Desk UK on 28 April 2017 to deliver three webinars. The webinars discuss three areas of support available for Producers through the MEDIA sub-programme's TV Programming scheme, Creative Documentary, Drama and Animation.

Pact webinar with Creative Europe Desk UK - Creative Documentary
Pact webinar with Creative Europe Desk UK - Drama
Pact webinar with Creative Europe Desk UK - Animation


Realscreen webinar with David Royle